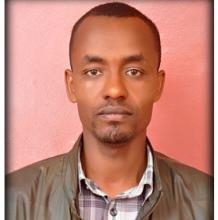 Dr. Meshesha Make (PhD, Associate Professor) is an instructor and researcher at Wolaita Sodo University, Ethiopia. At Wolaita Sodo University, he offers/teaches varieties of English language courses for PhD, MA and BA students. He is now serving as a visiting scholar at the Center for African Studies (CAS), University of Pittsburgh. His faculty colleagues at the University of Pittsburgh are Dr. Anna-Maria Karnes, Dr. Lelei Macrina, Dr. Porter Maureen, Gretchen Aiyangar and Dr. Mauk Claude. His research areas of interest are English language pedagogy, folklore, sociolinguistics, English language skills, gender and education, teaching and learning in higher education, higher education leadership etc.
 
Dr. Meshesha got his PhD in English from University of South Africa, his Masters of Education in English from Harmaya University and his Bachelor of Arts in English from Addis Ababa University. He authored sixteen (16) research articles in internationally reputable journals, one book online and another one (Wolaita Grammar) in his native language. He was the winner of the First Best Researcher Award of Wolaita Sodo University, in the year 2019. His areas of interest for teaching courses include (but not limited to) English Language Skills, English for Specific Purpose (ESP), English Composition, Communicative English Grammar, Second Language Acquisition Theories, Language Pedagogy, Semiotics, Methods and Approaches for English Language Teaching and Learning, Amharic Language, Ethiopian Culture, Sociolinguistics, Gender and Education, Culture, Folk Wisdom and Language Testing and Assessment.   
 
As a visiting scholar, Dr. Meshesha believes that CAS/IISE at the University of Pittsburgh is the pertinent place for him to make his dreams real/true. He loves the institutional culture of University of Pittsburgh and the overall social and natural setup of the City of Pittsburgh.