CLAS mourns the passing of our Founding Director, Cole Blasier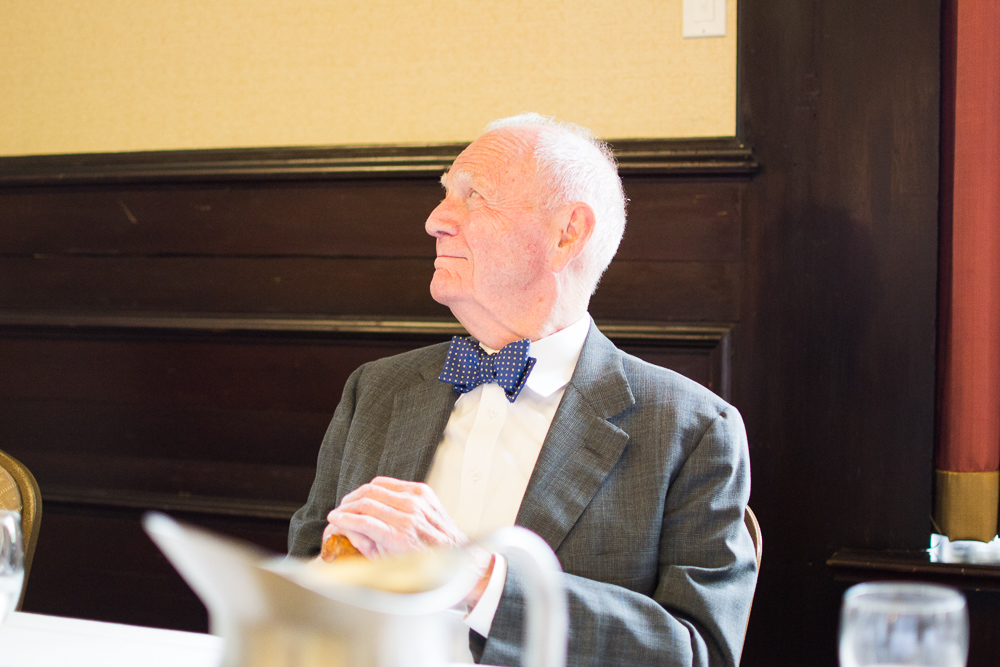 Photo by Michael Peeler.
It is with heavy hearts that the CLAS community mourns the loss of Professor Cole Blasier, who passed away on June 6, 2021. Dr. Blasier was the founder of the Center for Latin American Studies and served as its first Director from 1964 to 1974. 
Dr. Blasier received his undergraduate degree from the University of Illinois, and a Ph.D. in International Relations and Law from Columbia University. A specialist on US foreign policy, especially related to Latin America and the Soviet Union, he was a foreign service officer before becoming a university professor. He taught at Colgate University and at the Universidad del Valle in Cali, Colombia, before joining the University of Pittsburgh in 1964. At Pitt, he founded the Center for Latin American Studies, taught political science and international relations, and wrote several books on US foreign policy. "We all owe Cole a great deal," says Prof. Mitchell Seligson (CLAS Director 1986-1992), reflecting on Dr. Blasier's legacy.
"Cole Blasier had a long, great and productive life. His academic publications on Cuba, the Soviet Union and Latin America, thoroughly documented, objective and insightful will endure, and his seminal work in 1964 creating the Center for Latin American Studies (CLAS) at Pitt, one of the finest in the world, is a tribute to his name. I particularly recall our stay in Moscow in 1982 in an exchange with Soviet academics discussing Latin America; my paper was on the Cuban economy and our counterparts opposed its presentation so as not to upset the Cubans. Cole was the head of the U.S. delegation and told the Russians (in Russian) that If I was not able to present my paper, the whole delegation would depart. I gave my paper! I am proud to have worked with him since 1967 and for three decades." (Carmelo Mesa-Lago, Distinguished Service Professor Emeritus of Economics and Latin American Studies, CLAS Director 1974-1986.)
"Although Cole had left Pittsburgh by the time I arrived in 1993, he was always available to me with advice and to help in any way. Not only was he a dedicated, talented scholar, he was a true gentleman and genuinely wonderful person. It was a privilege and an honor to direct the Center that he founded." (Billie De Walt, CLAS Director 1993-2001.)
"Cole Blasier was a visionary. He took a strong and early leadership role in international studies and became a national leader in international education. He was able to convince the Chancellor of the University of Pittsburgh to invest in international education and positioned Pitt to take a leading role nationally for both International Studies in general and Latin American Studies in particular. He was also a generous person, and a great teacher and friend." (Kathleen Musante, Professor Emeritus of Anthropology and Behavioral and Community Health Sciences, CLAS Director 2001-2013.)
"Thousands of faculty and students who have studied Latin America at the University of Pittsburgh, and beyond, owe a tremendous debt to Cole Blasier. In addition to his extensive publishing (including the classic book on US-Latin American Relations, The Hovering Giant), founding the Center for Latin American Studies, he built partnerships with the University of Pitt Press that turned it into a major publisher of works about Latin America, including the journal Cuban Studies. He was also instrumental in starting the major journal in the field, the Latin American Research Review. I was lucky enough to meet Cole a few times, most memorably when he gave me a tour of the Latin American section of the Library of Congress where he worked after leaving Pitt. He clearly loved the historical treasures that were hidden away in the back shelves. He leaves a great legacy, and he will be missed." (Scott Morgenstern, Professor of Political Science and CLAS Director 2014-2018.)
"Over more than 50 years, the Center for Latin American Studies at the University of Pittsburgh, as envisioned by Prof. Cole Blasier, has been an outstanding place to learn and research about Latin America in the US. It is with great honor that I take the responsibility of continuing the work started by him." (Keila Grinberg, Professor of History and CLAS Director since January 2021.)
"Professor Cole Blasier was a true giant. He was a talented scholar who grasped the complex relationship between US foreign policy and socioeconomic and political change in Latin America and the Caribbean, and a charismatic leader who mapped a compelling vision for Pitt's Center for Latin American Studies. He will continue to be an inspiration for all of us for years to come." (Ariel Armony, Vice Provost for Global Affairs and Director, University Center for International Studies, UCIS.)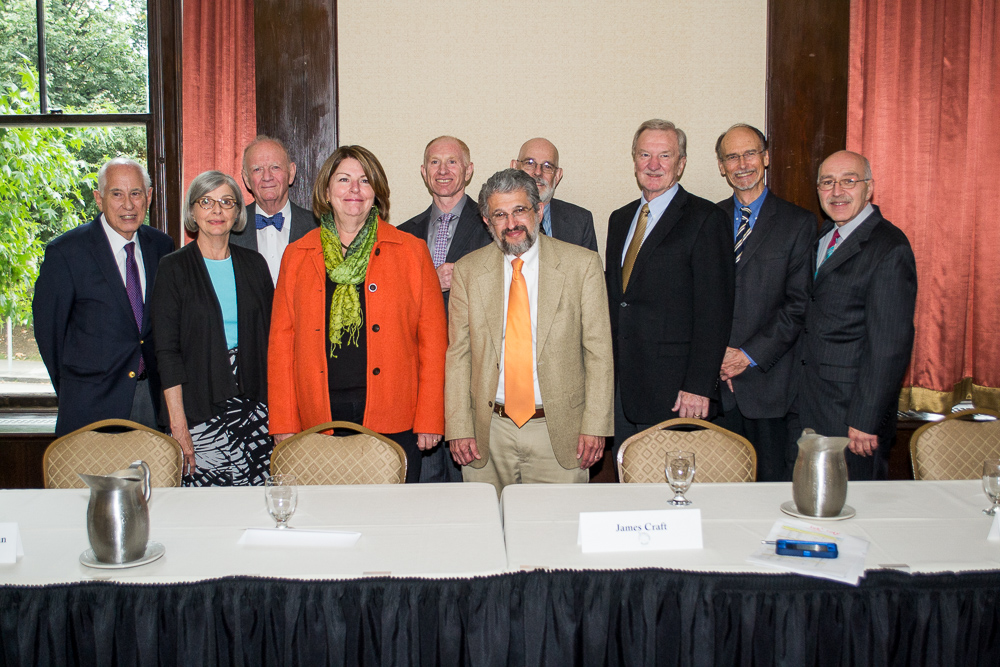 Left to Right: Carmelo Mesa-Lago, Shirley Kregar, Cole Blaiser, Kathleen Musante, Scott Morgenstern, Mitchell Seligson, Robert D. Drennan, Billie DeWalt, James Craft, John Frechione. CLAS 50th Anniversary Gala. Photo by Michael Peeler.
Cole Blasier was deeply devoted to his family and to his wife of 61 years, Marty, who passed in 2008. He is survived by his son Peter, his daughter Holly, and his grandchildren Emily, Louisa and Gavin. Professor Blasier's family, friends and colleagues will gather soon in Pittsburgh to remember and celebrate his life.