---
Puerto Rico: A Crisis of Debt and Migration
Speakers
 

Prof. Marla Ripoll
Department of Economics
University of Pittsburgh

Prof. Sheila Vélez
School of Law
University of Pittsburgh

Prof. Emilio Pantojas García
University of Puerto Rico
Wednesday, March 30, 2016
4130 Posvar Hall
12:15pm
---
The future of Puerto Rico is uncertain. Puerto Rico is addressing a severe debt crisis, threatening the stability of the island. In this roundtable we will explore the economic aspects that have led to this crisis as well as discuss how the crisis has impacted Puerto Rican migration to the mainland United States.
---
---
---
Pizza provided!!
For more information contact: bravo@pitt.edu or lavst12@pitt.edu
---
Past Roundtables
---
Theater and Performance in the Americas
Have you wondered about the intersection of theatre and Latin America?
Speakers
Lisa Jackson-Schebetta
Assistant professor
University of Pittsburgh
Ricardo Vila-Roger
Pittsburgh-based actor,
singer, and director
Maria Enriquez
K. Leroy Irvis Fellow
and PhD candidate
University of Pittsburgh
Diego Villada
K. Leroy Irvis Fellow
and doctoral student
University of Pittsburgh
THURSDAY, FEBRUARY 4, 2016
4217 Posvar Hall
12:15pm
---
Theatre and Performance are scholarly and artistic fields.  The theory and practice of
theatre and performance not only depend upon one another; they intersect with and
impinge upon pressing national and international issues surrounding representation,
opportunity and justice.
Come discuss landscapes of Latino/a and Latin American theatre and performance with scholars, professional theatre makers and teachers. Learn how to get involved and/or
incorporate theatre and performance into your own creative, academic and professional work.
---
---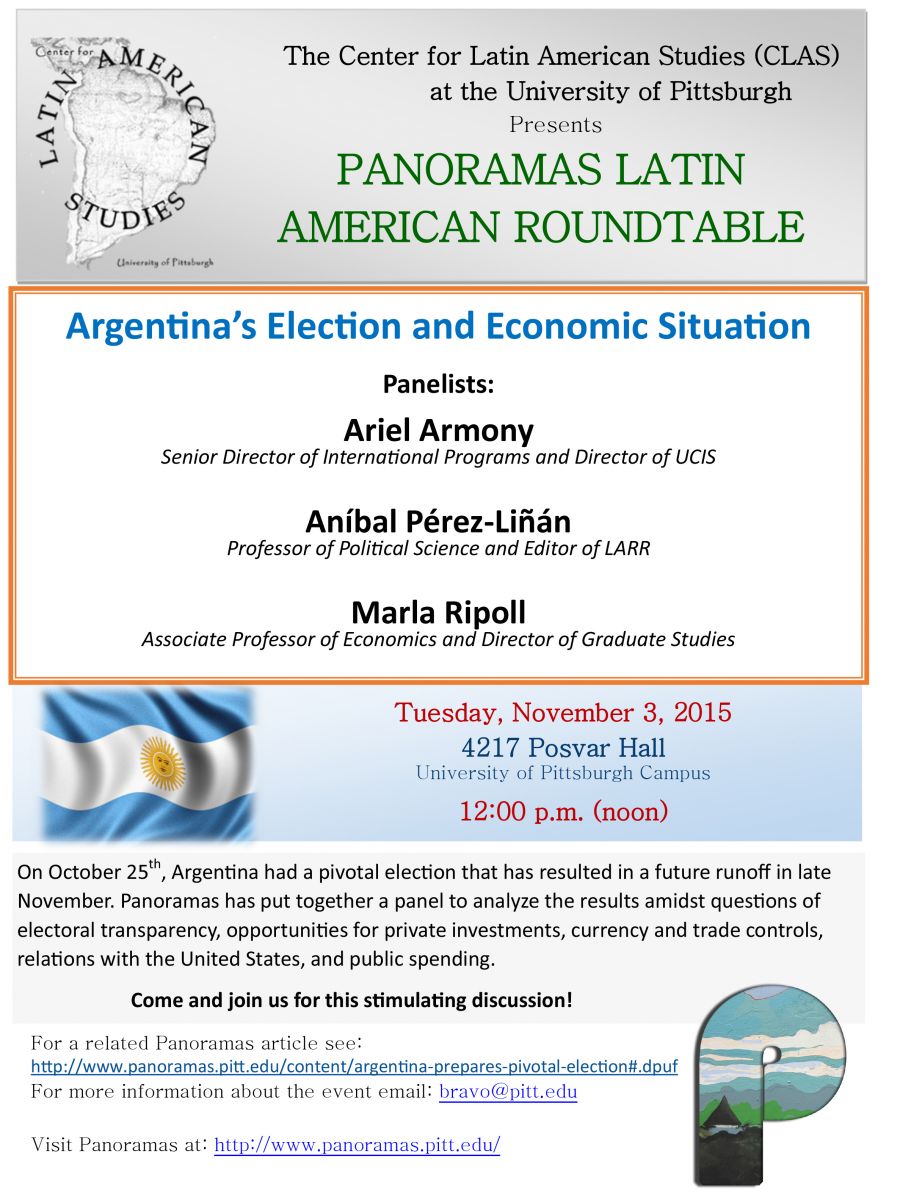 Argentina's Election and Economic Situation
Tuesday, November 3, 2015
4217 Posvar Hall
12:00 p.m. (noon)
Panelists:
Ariel Armony
Senior Director of International Programs and Director of UCIS
Aníbal Pérez-Liñán
Professor of Political Science and Editor of LARR
 Marla Ripoll
Associate Professor of Economics and Director of Graduate Studies
---
On October 25th, Argentina had a pivotal election that has resulted in a future runoff in late November. Panoramas has put together a panel to analyze the results amidst questions of
electoral transparency, opportunities for private investments, currency and trade controls,
relations with the United States, and public spending.
---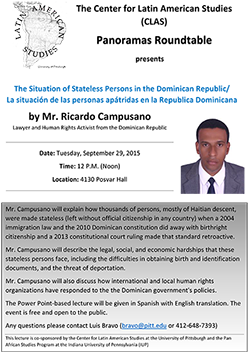 The Situation of Stateless Persons in the Dominican Republic/
La situación de las personas apátridas en la Republica Dominicana
by Mr. Ricardo Campusano
Lawyer and Human Rights Activist from the Dominican Republic
---
Date: Tuesday, September 29, 2015
Time: 12 P.M. (Noon)
Location: 4130 Posvar Hall
---
Mr. Campusano will explain how thousands of persons, mostly of Haitian descent, were made stateless (left without official citizenship in any country) when a 2004 immigration law and the 2010 Dominican constitution did away with birthright citizenship and a 2013 constitutional court ruling made that standard retroactive.
Mr. Campusano will describe the legal, social, and economic hardships that these stateless persons face, including the difficulties in obtaining birth and identification documents, and the threat of deportation.
Mr. Campusano will also discuss how international and local human rights organizations have responded to the the Dominican government's policies.
The Power Point-based lecture will be given in Spanish with English translation. The event is free and open to the public.
---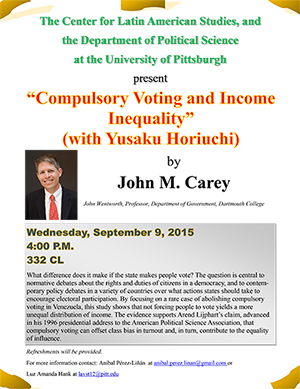 Wednesday, Sept. 9, 2015
Compulsory Voting and Income Inequality
by
John Carey
Time: 4:00 P.M.
Location: 332 Cathedral of Learning
What difference does it make if the state makes people vote? The question is central to normative debates about the rights and duties of citizens in a democracy, and to contem-porary policy debates in a variety of countries over what actions states should take to encourage electoral participation. By focusing on a rare case of abolishing compulsory voting in Venezuela, this study shows that not forcing people to vote yields a more unequal distribution of income. The evidence supports Arend Lijphart's claim, advanced in his 1996 presidential address to the American Political Science Association, that compulsory voting can offset class bias in turnout and, in turn, contribute to the equality of influence.
---
Small Countries, Big Challenges:
Addressing Poverty and Vulnerabilityin the Caribbean
by
Asha Williams
Time: Noon
Location: 4130 Posvar Hall
 (Social Protection Specialist, World Bank; CLAS and Pitt alumna; and 2015 Recipient of the Sheth International Young Alumni Achievement Award)
---
Tuesday, March 3, 2015
Time: 12:30pm
Location: 4217 Posvar Hall
Join us for an hour discussion on Sports in Latin America and the Caribbean involving topics such as:
Cultivation of Baseball talent in the Caribbean (especially the DR);
Efforts by Major League Baseball to lower their costs of production;
What the opening with Cuba might beam;
Mega sports events (FIFA World Cup 2014 and Rio Olympics 2016) from the angle of the Brazilian Government;
Impact and role played by other less known mega sporting events in the region (Pan American Games and the South American Games)
Discussion Leaders:
Rob Ruck (University of Pittsburgh)
A Professor of Sport History, Rob Ruck has written and made documentaries about sport in black America and Caribbean.
Gonzalo A. Bravo (West Virgina University)
Completed a masters in sport administration from Penn State University and a PhD in sport management from Ohio State University. Since 2004, he has been on faculty at West Virginia University where he teaches sport management.
---
Wednesday, February 18, 2015
Date: Wednesday, February 18, 2015
Time: Noon
Location: 4130 Posvar Hall
For more information contact: Luis Bravo bravo@pitt.edu or Luz Amanda Hank lavst12@pitt.edu
Please join us today for a different type of lunchtime event as part of our Panoramas Roundtables.  In our effort to promote general discussion about topics of broad interest, we will set up three tables for people to gather around and discuss one of the following topics: Latino (a) issues, the Chilean scandals, and the Argentine scandals.  Each table will have an expert to lead the discussion.  The discussion leaders, respectively, will be: Shelia Velez who leads Pitt's Immigration Law Clinic, Panoramas editor and Ph.D. Candidate in political science, Ignacio Arana, and Aníbal Pérez-Liñán from Political Science. 
 And if the conversation isn't enough to attract you, there will be pizza!
Please note the following articles of interest in Panoramas and elsewhere:
Wednesday, November 19, 2014 
The Challenges and Hopes of Rebuilding Haiti's Healthcare
Marisol Wandiga (Global Links)
January 12, 2015 will mark 5 years since the massive earthquake hit Haiti. Join Global Links for a discussion on the challenges that still remain to help rebuild Haiti's Healthcare System and learn about extraordinary projects, some led by Pittsburghers that are changing the face of healthcare in Haiti.
---
Tuesday, November 4, 2014
 Brazilian Election—After
Participants from Pittsburgh and firsthand accounts from participants in Brazil.
Time: Noon
Room: 4130 Posvar Hall
---
Monday, October 20, 2014
Brazilian Election—After
Participants from Pittsburgh and firsthand accounts from participants in Brazil.
Time: Noon
Room: 4130 Posvar Hall
---
Tuesday, September 16, 2014 
Current Immigration Issues
Time: Noon
Room: 4130 Posvar Hall
Sponsored by: The Center for Latin American (CLAS), and the Global Studies Center at
the University of Pittsburgh
---
Wednesday, September 24, 2014
Center for Latin American Studies —Seminar & Field Trip Presentation 
Time: Noon
Room: 4130 Posvar Hall
---
Thursday, October 2, 2014 
Brazilian Election—Before
Participants from Pittsburgh and firsthand accounts from participants in Brazil.
Time: Noon
Room: 4130 Posvar Hall
Costa Rican 2nd Round Elections 2014-Video Conference
Discussion on the elections with scholars from the University of Pittsburgh and La
Universidad de Costa Rica.
Moderator
Juan Manuel Munoz - Political Scientist
Panelists
Ciska Raventos - Sociologist and Researcher in Centro de Investigación y Estudios Políticos CIEP-UCR
Adrian Pignataro - Political scientist and Researcher in Centro de Investigación y Estudios Políticos CIEP-UCR
Steffan Gomez - Political Scientist and Researcher Programa Estado de la Nacion
Ronald Alfaro - Political Science Department - University of Pittsburgh
Leonardo Solano - Hispanic Languages and Literatures Department - University of Pittsburgh
---
Friday, March 7, 2014
Impressions from Venezuela. Institutional Deterioration, Violence and Social Unrest
Alejandro Trelles
11:30 a.m.—12:30 pm
Room 4130 Posvar Hall
Alejandro shared his impressions and fieldwork experience in Venezuela during a critical moment of economic crisis, violence and social unrest. Format. Brief intro and Q&A.
Alejandro Trelles is a PhD candidate in political science at the University of Pittsburgh. He holds an MA in political science from the same university and a BA in political science from ITAM in Mexico City. His research interests are bureaucracy, electoral institutions, political parties and representation in Latin America and Africa. He works as a Principal Investigator in the Public Mapping Project Mexico (http://www.publicmapping.org/) and he is currently doing fieldwork in Caracas, Mexico City, Accra and Nairobi. More information can be found in www.alejandrotrelles.com.