Recent Accolades!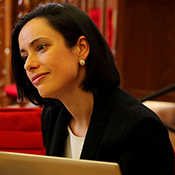 Dr. Cristina Blanco Sío-López, currently European Union 'Marie Skłodowska-Curie' Senior Global Fellow at the European Studies Center (ESC) of the University of Pittsburgh and PI of the research project 'Navigating Schengen: Historical Challenges and Potentialities of the EU's Free Movement of Persons, 1985-2015' (NAVSCHEN) was selected as Member of the Spanish  Young  Academy, representing the field of History. Read more about Cristina Blanco Sío-López.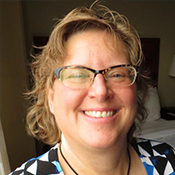 Maureen Porter (School of Education) has been honored with the David Portlock Outstanding International Educator Award by the Pennsylvania Council on International Education (PaCIE). The award will be conferred at PaCIE's annual conference October 5-6, 2018 in Cranberry, PA.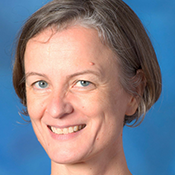 Viktoria Harms (German) has been selected by the American Association of Teachers of German (AATG) and the Goethe-Institut as on of the 2018 recipients of the AATG/Goethe-Institut Certificate of Merit for outstanding achievement in furthering the teaching of German in schools of the United States. 
Publication of a Special Issue!
The ESC is pleased to announce the publication of a special issue of Écrans featuring the work of several ESC Affiliated faculty members (list above).  This publication grew out of a collaboration between the Film and Media Studies Programs at the University of Pittsburgh and the Université Lyon II in France.
 
The ESC congratulates French & Italian Studies and Film Studies Professor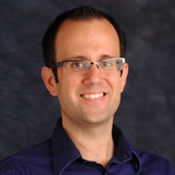 David Pettersen has been named Chevalier in the Ordre des Palmes académiques by the Minister of Education of France.  Dr. Pettersen received this honor for his contributions to French culture.  Read his bio to learn more about Dr. Pettersen's work on French suburban and postcolonial cinema and on the transatlantic aspects of 20th and 1st century French literature, film, and culture.
 
2017
Renate Kosinski-Blumenfeld, French and Italian Languages and Literatures, co-edited a book with Joel Blanchard: Philippe de Mezieres et l'Europe: Nouvelle histoire, nouveaux espaces, nouveaux langages (Geneva: Droz, 2017).
Tony Novosel, History, won the Chancellor's Distinguished Award for Public Service.
Todd Reeser, French and Italian Languages and Literatures, published the book Setting Plato Straight (Chicago: U of Chicago P, 2015) and was awarded the Phyllis Goodhart Gordan Book Prize, which recognizes the best book of the year in Renaissance Studies.
2016
Viktoria Batista, German, received a DAAD/Fulbright Summer Academy grant.
Vivian Curran, Law, is named a Distinguished Professor.
Anjuli Das, (A&S 16), Classics major and graduate received a Fulbright Scholarship to study and teach in Turkey, 2017-17.
Lorraine Denman, French and Italian Languages and Literatures, received the 2016 Bellet Teaching Excellence Award.
Anna Dimitrova, French PhD And West European Certificate student, received the 2016-17 Mellon doctoral fellowship.
Rick Donato, Education, received the 2016 Provost's Award for Excellence in Mentoring.
Nicholas Jones, Classics, completed texts, translations, and commentaries on the major Athenian historians, Androtion and Philoshoros, and were uploaded at Brill's New Jacoby.
Andrew Korzeniewski, Classics, joined the Classics faculty this year as a Visiting Lecturer and was voted Professor of the Month for March 2016 by the Lambda Sigma Honor Society, Pitts Sophomore class Honors Society.
Marcia Landy, English, Emeritus, receives honorary doctorate from Stockholm University for her outstanding contributions to the humanities.
Ronald Linden, Political Science, received a DAAD/AICGS Fellow (Deutscher Akademischer Austauschdienst/American Institute for Contemporary German Studies).
Ryan McDermott, English, received a Deitrich School of Arts and Science Type II Research Expense Grant, and a University of Pittsburgh Central Research Development Fund Small Grant.
Giuseppina Mecchia, French and Italian Languages and Literatures, published her translation (with a critical introduction) of Paulo Virn's When the Word Becomes Flesh. Language and Nature (Semiotext(e)/MIT Press, 2015). 
David Pettersen, French and Italian Languages and Literatures, published Americanism, Media, and the Politics of Culture in 1930s France (University of Wales Press, 2016). 
Todd Reeser, French and Italian Languages and Literatures, published Setting Plato Straight: Translating Ancient Sexuality in the Renaissance (University of Chicago Press, 2016).
Nicholas Rescher, Philosophy, received the Founder's Medal of the Metaphysical Society of America, 2016 for his lifetime contributions to philosophy, and the Helmholtz Medal of the Germany Academy of Science, 2016 (Berlin/Brandenburg) for his achievements in philosophical scholarship.
Gayle Rogers, Economics, published Modernism: Evolution of an Idea (Bloomsbury, 2015).
Francesca Savoia, French and Italian Languages and Literatures, published Favellare ai lontani: tipologie epistolary fra Sette e Ottocento (Firenze:
Dennis Schebetta, Theater Arts, received an International University Global Theatre Experience (IUGTE) Arts Oasis Grant.
H.P. Stahl, Classics A.W. Mellon Professor Emeritus, completed a major study of Vergil's Aeneid and published Poetry Underpinning Power: Vergil's Aeneid for Emperor Augustus. A Recovery Study.
Andrew Strathern, Anthropology, and Pamela Stewart edit The Ashgate Research Companion to Anthropology, including a chapter on their research on Disaster Anthropology
Emily Winerock, Department of History, received a Shakespeare Association of America Travel Grant Award and a World Shakespeare Congress Grant.
2015
Amy Colin, Department of German, is editor and contributing author to the book Czernowitz - Stadt der Dichter: Geschichte einer jüdischen Familie aus der Bukowina (1900-1948).
Louise K. Comfort, sat on Committee for Disaster Management in Turkey.
Nancy Condee, Department of Slavic Languages and Literature, received a REES Small Grant.
Andrew Korzeniewski, Department of Classics, received a Hewlett International Grant.
Helma de Vries-Jordan, University of Pittsburgh at Bradford, received a Faculty Development Grant, "International Studies Association Conference:  The Marriage Equality Movements in Western Europe and North America."
Adam Shear, Department of Religious Studies, received a Memorial Foundation for Jewish Culture grant.
Jonathan Sherry, Ph.D. Candidate, was invited to present a seminar at the London School of Economics.
Jennifer Waldron, Department of English, received a Hewlett International Travel Grant.
Carrie Weaver, Department of Classics, received a Archaeological Institute of America Publication Subvention Grant.
Carrie Weintraub, who graduated in 2010 with a Bachelor of Philosophy with majors in Communications and International and Area Studies/Global Studies track, and certificates in West European Studies and European Union Studies, has been selected as a Fulbright grant recipient for 2015