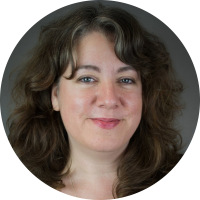 Cynthia Croot is a director, deviser, writer and activist, and serves as Associate Professor and Head of Performance at the University of Pittsburgh. Croot earned her MFA in Directing from Columbia University under the tutelage of Anne Bogart, Robert Woodruff, Andrei Serban, and Kristin Linklater. U.S. directing credits include: John Guare's The House of Blue Leaves and Theresa Rebeck's Seminar (Perseverance Theatre, Juneau); Shakespeare's The Winter's Tale (Colorado Shakespeare Festival); Shakespeare's Much Ado About Nothing and the company-created chamber musical The Millay Sisters (Stonington Opera House) as well as productions in NYC at PS122, HERE, Town Hall, The Ontological-Hysteric Theatre, Symphony Space, and the Guggenheim Museum.
A 2007-2009 Fellow of the NEA/TCG Career Development Program for Directors, Croot is also Resident Director of the NYC-based theatre company Conni's Avant Garde Restaurant. With her company, she has staged experimental audience-immersive and site-specific work in NYC, the Cleveland Public Theatre, OH; The Motherlodge Festival, Louisville, KY; North American Culture Lab, NY; and American Repertory Theatre's "Club Oberon" in Cambridge, MA. Croot's direction helped earn Conni's Avant Garde Restaurant two 2012 New York Innovative Theatre Awards. In 2015, she co-founded the activist art collective Ifyoureallyloveme with poet Joy Katz. Their first project: One Large, a piece about race and money, has been performed at the Open Engagement Conference, Pittsburgh, the Theatre Communications Group Conference, Washington, DC, and at Actors Theatre of Louisville, KY.
Among her international credits, Croot toured Suzan-Lori Park's Venus in Cape Town and Johannesburg, South Africa, during the historic moment of Sara Baartman's repatriation and burial. Her benefit U.S. stagings of VENUS at the Public Theater and Gatehouse (NYC) featured Tim Robbins, Joe Morton, Jayne Houdyshell, Arliss Howard and Kathleen Chalfant. In 2008 she received a TCG/ITI grant for travel to Croatia for another incarnation of the Venus Project: using it as a lens to examine the sex trafficking industry in Eastern Europe.
In 2004/5 Croot represented U.S. artists on a five-person delegation to Damascus University, Syria. This exchange, originally organized by the Center for International Conflict Resolution at Columbia University and the U.S. State Department, helped shape her ongoing commitment to forging cross-cultural understanding through innovative use of the arts and media. Croot has since been a guest speaker at the Fadjr International Theatre Festival in Tehran, and was recently invited to join ArtUp's Sites of Passage – a collaborative project involving partners from the US, Israel and Palestine – interrogating the concepts of borders and nations. In 2017 she launched "Taking Refuge," an examination of the current refugee crises around the world by artists, activists, journalists, academics, and individuals directly affected by war and political violence. The project premiered last spring in cooperation with Colgate University, the College of Charleston, College of the Holy Cross, Indiana University of Pennsylvania, Louisiana State University, Noor Theatre company, Roehampton University UK, the University of Colorado, and Washington College, MD.