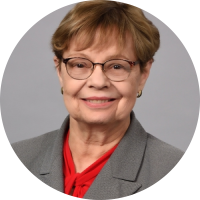 Josephine (Jo) Olson teaches courses in managerial economics and international economics, and has conducted study trips to Europe and Latin America. She is an associate of the Center for Latin American Studies, the European Studies Center, the Center for Russian, East European and Eurasian Studies, the Asian Studies Center, and the Global Studies Program. From 2006 to 2014 she was Director of the International Business Center. She was secretary of the University Senate from 2002 to 2005. She previously served as director of MBA Programs and Associate Dean. Prior to coming to the University of Pittsburgh, she was on the faculty of Bernard M. Baruch College, City University of New York.
Jo's research interests include topics in international economics and a study of career paths and income determinants of MBAs.
Jo has been a member of the District Export Council of Western Pennsylvania since 2008. Earlier she served for 12 years as a member of the Board of Trustees of Teachers Insurance and Annuity Association (TIAA). In the fall of 1991 she was a Fulbright Fellow at the International Management Center in Budapest, Hungary. She was visiting professor of economics at the Czechoslovak Management Center in winter 1992. In 1993-94 she was a visiting professor at Nyenrode University in the Netherlands and in 1994-95 she was academic dean and interim CEO of the Czech Management Center. She has consulted with public and private agencies with regard to public policy toward transportation and utility rate-setting and international economics. She has also done some educational consulting.