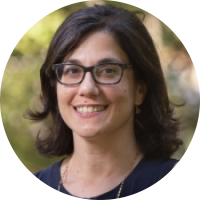 Lina Insana's research and teaching focuses on modern and contemporary Italian cultural production. Most of her work on Italian writer and Holocaust survivor Primo Levi is concerned with textual mediation, translation, and adaptation; newer research—on Sicilian cultural belonging and manifestations of italianità in the American interwar period (1919-1939)—seeks to interrogate formations of transnational identity at the margins of conventionally-accepted definitions of Italianness.
Her first book, Arduous Tasks: Primo Levi, Translation, and the Transmission of Holocaust Testimony (U of Toronto Press, 2009) examines Primo Levi's testimonial work through the lens of translation, broadly understood as a mediating and interpretive mode that creates spaces of testimonial agency for the survivor-author. This work was recognized both by the MLA (Scaglione Italian Manuscript Prize, 2007) and the American Association of Italian Studies (20th c. Prize, 2009). Her current manuscript-in-progress, "Charting the Island: Sicilian Position and Belonging from Unification to the European Union," is a geocritical cultural history of Sicilian belonging under the modern Italian State (1861-present), defining belonging not in terms of individual subjectivities but in critical geographical and spatial-rhetorical terms. As its title suggests, the project develops a theory of 'charting' as the way in which producers of culture (both individual Sicilian and continental agents, as well as collective or institutional agents such as those that emerge from encyclopedias, journals, tourism brochures, laws, policies, political and military displays, etc.) locate, map out, and generate a variety of Sicilian geocultural positions, as well as the affiliations, associations, and distances that make them possible within configurations such as 'Italy," the "Mediterranean,' and 'Europe.' The book's analyses draw on extensive research in and attention to three broadly-defined historical periods (post-Unification Italy; Italian Fascism; post-Schengen Italy), each of which illustrates different crises of the Italian body politic to which Sicily has ostensibly belonged since the 1861 unification (or Risorgimento) of Italy. Charting the Island draws on both literary and non-literary texts from the last hundred years or so: Messina's post-earthquake urban shantytown; Mussolini's 1937 visit to Sicily to project military force from the island to war-torn Spain on one hand and its nascent Empire on the other; the proposed construction of the Bridge of the Straits; the political theatre of immigration and the symbolic valence of Lampedusa.
She is also engaged in a third book-length project that explores expressions of italianità in North American Italian "colonies" between the first and second World Wars through institutions and cultural icons that helped immigrant communities to negotiate complex and often competing civic identities. Her work in Italian American Studies also extends to research on children's literature ("Strega Nona's Ethnic Alchemy," MELUS 31.2) and teaching ("Italian America on Screen").
Prof. Insana has served two terms (2013-2019) as Chair of the Department of French & Italian (serving as summer Chair from 2010-2013) and has been Director of Graduate Studies in Italian since 2010. From 2016-2018 she was Chair of Pitt's Humanities Council. Since 2012 she has been the lead organizer of Pittsburgh's Italian Film Festival USA, a curated festival of contemporary Italian Cinema that takes place every spring on Pitt's campus.