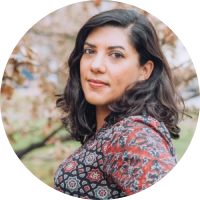 "I am an ethnomusicologist who works across the fields of music in cultural contexts, South Asian Studies, critical ethnography, and development studies. My research is motivated by a deep interest in understanding how hereditary professional musicians in South Asia continue to make a relevant living through music as caste and livelihood despite postcolonial rearrangements of traditional patronage relationships, economic hardships, and the lure of more lucrative non-music professions.
My first book, Patronizing Resilience: Performing Manganiyar Music in the Indian Thar Desert, is a sociocultural history and musical ethnography of the Manganiyar, a hereditary community of caste-based musicians who live on the India-Pakistan border and have maintained music within a patronage system as their livelihood for centuries. By reconsidering the role of traditionally considered subaltern communities like the Manganiyar in a postcolonial performance context, I chronicle the ways Manganiyar musicians have in recent years rhetoricized neoliberal development through what I call "development imaginaries" using music as a way to empower and mobilize their community. Based on fifteen years of ethnographic fieldwork and primary sources research, I argue that, although the Manganiyars' musical patronage system has weakened since Independence as a result of postcolonial rearrangements and shifting cultural priorities, Manganiyar musicians have been extremely resilient in a neoliberal economic and cultural sense. They have been resourceful in creating new opportunities through development to sustain their music as a relevant community-based profession in new performance venues, what I call "post-patronage" contexts. I have spent significant time over the past fifteen years living among the Manganiyar on the India-Pakistan border in the Thar Desert, and continue to work with the community and its musicians on various community-based projects in and outside of India.
I am currently developing two research projects. The first has been supported by an American Institute for Indian Studies Senior Research Fellowship (2018-19), and uses transmedia technologies to enable musicians from the Manganiyar community to tell their own ongoing stories using digital media platforms and innovative media context.
The second examines the erotic thriller anthology video series, Gandii Baat, released by the Indian subscription based video platform, ALTBalaji from 2018-2021. Described as portraying urban fantasies from rural India, I am interested in the ways sound and music are used in the series to engage with the urban/rural divide and sexual taboos in contemporary India.
I teach courses on ethnographic fieldwork, ethnographic film and filmmaking, Bollywood film, Islam and music in South Asia, development and sustainability studies, and intellectual property and music.
I joined the Department of Music at the University of Pittsburgh in 2015, having previously been on the faculty at American University (Washington, D.C.). Before that, I held a Mellon Postdoctoral Fellowship in the Humanities at Dartmouth College and a Marilyn Yarbrough Dissertation/Teaching Predoctoral Fellowship at Kenyon College. I received my Ph.D. in Music with a focus on Ethnomusicology from the University of California, Berkeley. My dissertation research was supported by a Fulbright IIE fellowship and a Graduate Opportunity Program Fellowship through UC Berkeley."