CLAS@Pitt NEWSLETTER--Online events and Important updates! July 2, 2020
On Monday, June 29, we started Charlemos, a new series that brings together political scientists focused on Latin America, discussing recently published articles and research every three to four weeks. Even if you are not a political scientist or academic, Charlemos is a tremendously engaging opportunity to understand more about sources, analysis, conclusions, and circumstances impacting Latin America. Former CLAS Director Dr. Scott Morgenstern (2013-2018) is one of the stewards from the Latin American Public Institutions and Processes section (LAPIS) at LASA. We are glad to support this effort and encourage you to take a look for yourself, on Monday, July 20 at 3:00pm.
Looking ahead to the end of the month, we have the next Americas Trivia event on the 31st of July. Be sure to brush up on Latin America and play for fabulous coffee prizes from Building New Hope. Starting in September there will be three CLAS Film Series presentations for this Fall, roughly once a month through November. Later in October we will host a series of related events centering on Crimes Against Humanity in Latin America, especially as they relate to Operation Condor.
On October 6, Mitchell A. Seligson, (CLAS Director 1986-1992) and Susan Berk-Seligson will be visiting us (virtually) to present a book they recently edited, Francisco Mejía Mejía: La Autobiografia de un Campesino Costarricense, 1923-1981 (University of Costa Rica Press). Lara Putnam, Professor and Chair of the History Department will join us for this event.
All in all, we plan to maintain a good complement of events and opportunities for our students, faculty and community and hope that you will take advantage of our diverse and interesting programming.
Take care
The Seligson Political Culture Survey Archive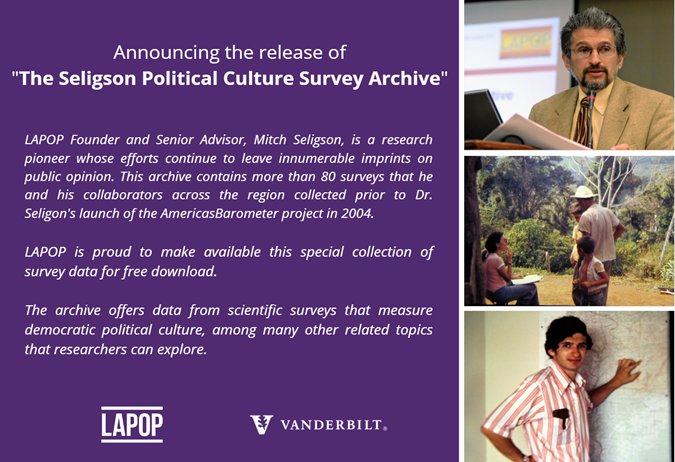 LAPOP is proud to make available a special collection of surveys, "The Seligson Political Culture Survey Archive", for free download.
The archive consists of 82 surveys conducted in 17 countries between 1975 and 2005. Included among the datasets is the "Seligson-Gómez Data Bank of Surveys on the Political Culture of Democracy in Costa Rica". 
The Seligson Political Culture Archive offers data from scientific surveys that measure democratic political culture, among many other related topics that researchers can explore.
Click here to access an Insights report that describes the archive in more detail.
Seligson's pioneering efforts have left innumerable imprints on public opinion research. One of them is the AmericasBarometer series (2004 - present day). This archive leaves off where that project begins.
All archive datasets (in SPSS and Stata format) and their respective technical information and questionnaires are available for free download below. To find a study, either scroll down to or click on a country, find the year of the study, and then click on the link to the appropriate document.
Users should consult the technical report for each dataset for details on the study design. In addition, they should take note that, for some surveys, the country-study pages contain reports or publications in addition to the datasets.
For undergraduates and graduate students:

Meet your Academic Advisor, Luis Bravo! 
Fulbright U.S. Scholar Program - Brazil Opportunities
Opportunities are available in the Western Hemisphere with the Fulbright U.S. Scholar Program. There are 60 opportunities available for U.S. citizens to receive funding to teach and/or conduct research in the region in 2021-22.
Fulbright Scholars are selected for their academic merit and leadership potential to research, teach, and exchange ideas. The 2021 - 2022 Fulbright U.S. Scholar Program is accepting applications until September 15, 2020.
Brazil Awards:
Webinar overview of the opportunities in Brazil that you can watch here.
There are more than 450 awards available in more than 125 countries. The complete list of grant opportunities are located in the Catalog of Awards where you can search by region, country, or academic discipline.
Any questions from interested applicants regarding any of the opportunities listed above or the Fulbright Scholar Program, in general, can be directed to Angelica Serna
Regional Program Officer, Western Hemisphere
Fulbright Scholar Program at westhem@iie.org.
 
Support local businesses!
Below are local Latin American/Caribbean
food vendors offering take out or delivery at this time.
*Indicates free delivery to select neighborhoods.

For more vendors offering take-out/delivery, Check this group in Facebook: this Facebook group.
---
---
If you know of a business not listed below, and you know that they currently offer delivery/take-out, please pass this information to them. We recommend that you to NOT fill it out for someone else. Rather, we would ask that you pass this information to them to fill out themselves. Though some of you work with the community, please get approval before you fill out a form on somebody's behalf.
Form: 
https://www.ucis.pitt.edu/clas/content/localbusiness_info
Thank you and be safe!
Building New Hope
(
Nicaraguan fair trade coffee)
(We are not currently offering order pickup. We offer FREE DELIVERY in: Shady Side, Bloomfield, Point Breeze, Squirrel Hill N, Highland Park, Friendship, East Liberty and Edgewood.)
Delivery: YES
Website: https://www.buildingnewhope.org/

Black Bean dba Hunan Bar (Cuban/Chinese)
239 Atwood St.
Pittsburgh pa 15213
Delivery: YES (3-mile radius)
Delivery fee: YES
Hours of Operation: Monday-Sunday 12-8
E-mail: laniechen1@verizon.net
Website: Facebook (Hunan bar)
Menu Items: Chicken & beef Empanada, fried rice, pork belly, Check out menu on Facebook (Hunan Bar)
Telephone Number:  412-621-2326
  
California Taco Shop Etna (Check the Facebook page—Only take-out)
890 Butler Street 
Pittsburgh, PA 15223
Website: https://www.facebook.com/California-TACO-shop-Etna-348334605814234/
Telephone Number: 412-409-2155

Caribbean Village
(Caribbean: Antiguan,Virgin Islands & more)
100 Monroeville Mall, Suite 100B-1
Monroeville, PA, 15146
Hours of Operation:

 
10am-9pm, (however, the mall is currently

closed temporarily due to COVID-19)
Delivery: YES (10 mile radius and surrounding communities)
Delivery Fee: YES
Gift Certificates: YES (Via email)
Email: keywandabattle@yahoo.com 
Telephone Number: 412-377-7951
Casa Brasil
5904 Bryant St
Pittsburgh, PA 15206
Delivery: Order delivery in GRUBHUB
Website: https://www.casa-brasil.com/
Telephone Number: 412-404-7573
Cilantro & Ajo (Venezuelan)
901 E Carson St
Pittsburgh, PA 15203
Delivery: YES (5-mile radius)
Delivery Fee: YES
Gift Certificates: YES (Send via MAIL)
Email: c

ilantro.ajo@hotmail.com


Website:

www.cilantroajo.com


Telephone Number: 412-432-5708

Chicken Latino (Peruvian)
Phone: (412) 246-0974
155 21st St
Pittsburgh, PA 15222
Delivery: Order delivery in GRUBHUB
Website: http://chickenlatino.net/
*Moving locations as of June 21st*
 
El Patron Mexican (Three locations—check their website for Online ordering)
 
El Campesino McKnight (Mexican)
4771 McKnight Rd
Pittsburgh, PA 15237
Delivery: Order delivery in GRUBHUB
http://www.elcampesinospgh.com/
Telephone Number:  412-366-8730

El Paso Mexican Grill
1778 North Highland Rd
Bethel Park, PA 15241
Delivery: YES; 20 miles radius
Delivery Fee: YES
Gift Certificates: YES; mail or email
Hours of Operation:
Monday - Thursday: 11:00 am - 10:00 pm
Friday: 11:00 am - 10:30 pm
Saturday: 11:30 am - 10:30 pm
Sunday: 11:30 am - 9:00 pm
Website: https://elpasopitt.com
Email: elpasopitt@gmail.com
Telephone Number: 412-409 2155
Fogo de Chao* (Brazilian)
525 Smithfield St
Pittsburgh, PA 15222
Delivery: YES (Curbside Pickup & Free Delivery—Includes catering)
Website: https://fogodechao.com/location/pittsburgh/

La Feria (Peruvian)
5527 Walnut St
Pittsburgh, Pennsylvania 15232
Take-Out: YES
Website: http://laferia.net/
Telephone Number: 412-682-4501

La Palapa, Mexican Cuisine & Mezcal Bar*
2224 East Carson Street
Pittsburgh, PA 15203
Delivery: YES; Approximately 3mile radius
Gift Certificates: YES--Online--stay tuned!
Hours of Operation: Tuesday - Sunday 1pm-8pm; Monday Closed
Website: www.lapalapapgh.com
E-mail: catering@lapalapapgh.com
Telephone: 412-586-7015

Marisqueria Insomnia 
810 Brookline Blvd
Pittsburgh, PA 15226
Delivery: YES (UBER eats)
Website: https://www.facebook.com/Marisqueria-238892819998139/
Telephone Number: 412-343-7827

Mendoza Express (Mexican)
812 Mansfield Ave
Pittsburgh, PA 15205
Take-Out: YES
Website: http://www.mendozaexpress.com/
Telephone Number: 412-429-8780
Mi Empanada
(

Argentine-American empanadas)
4034 Butler St, Pittsburgh, PA 15201
Delivery and Take-Out: Yes
Facebook:

https://www.facebook.com/miempanadapgh/


Telephone Number: 412-685-5474

Pabellon Venezuelan
2957 Banksville Rd
Pittsburgh, PA 15216
Delivery: Order delivery in GRUBHUB
Telephone Number: 412-344-1122
Round Corner Cantina (Mexican)
3720 Butler St
Pittsburgh, Pennsylvania 15201
Email: hola@cantinapgh.com
Website: http://roundcornercantina.com/
Delivery: Order delivery in GRUBHUB
Tango Truck (only Empanadas)
Needs two days to prepare the orders.
Email: TangoFoodTruck@gmail.com 
Telephone Number:  412-641-0110
The Colombian Spot
2019 E Carson st
Pittsburgh, Pennsylvania 15203
Delivery: Yes (Order delivery in GRUBHUB)
Website: https://www.thecolombianspot-pgh.com/
Telephone Number: 412-381-9000
Tocayo
810 Ivy Street
Pittsburgh, PA 15232
Hours of Operation: 4:00--9:00pm
Delivery: Yes 
Gift Cerficates: Yes (Mail)
Website: www.tocayopgh.com
Telephone Number: 412-251-5695
Totopo Mexican Kitchen and Bar
660 Washington Road
Mt. Lebanon, PA 15228
Hours of Operation: 3:00--9:00pm
Delivery: Yes 
Gift Cerficates: Yes (Mail)
Website: www.totopomex.com 
Telephone Number: 412-668-0773
Tu y Yo Café
3447 Harts Run Road
Glenshaw, PA 15116
Hours of Operation: Tuesday to Saturday 7am - 7pm
Delivery: No
Gift Cerficates: Yes (Mail/Email)
Website: tuyyocafe.cafe
Telephone Number: 412-406-7555
The Diversity Forum 2020, Advancing Social Justice: A Call To Action
July 28, 2020- July 30,2020
The Pitt Diversity Forum, Advancing Social Justice: A Call To Action is a three day virtual event that is free and open to the public with the goal of equipping participants with the necessary tools to advance social justice across the University, City of Pittsburgh, and beyond. Workshops will be held to ignite conversations about the broad array of social injustice issues that affect the Pitt community and communities at-large, investigate social barriers faced by communities in the age of the COVID-19 pandemic, and outline actionable steps to address these issues and barriers. Dr. Ibram X. Kendi, one of America's foremost voices on antiracism and the New York Times bestselling author of How to Be an Antiracist, will be a featured keynote presenter. To learn more and to register for the Diversity Forum, click HERE>>
The Art of Diversity Showcase
Submissions due by July 6, 2020
The Office of Diversity and Inclusion has partnered with the Center for Creativity to coordinate a creative work showcase that is open to the Pitt community and community at-large. Creative work submissions are encouraged that are relevant to aspects of their cultural identity, sociocultural topics, or social justice issues to be displayed in virtual galleries and on University media. To learn more about the showcase and about the submission process, click HERE>>
Racialized Police Violence in Global Perspective: 5 Key Concepts
This discussion series provides students with an opportunity to think about the most recent wave of brutal police violence in the United States in a global perspective. Participants will do up to an hour of reading, viewing, or listening in advance of each conversation; there will be no structured presentations. The goal is for students who complete the series to be able to explain how racialized and militarized policing in the USA shape and are shaped by historical and contemporary global connections and processes. 
Participants will receive links to the readings, videos, or audio clips prior to each session.
 
Schedule:
Settler Colonialism - Wednesday, July 8th, 4-5:30PM
Racial Capitalism - Wednesday, July 15th, 4-5:30PM
Transnationalism - Wednesday, July 22nd, 4-5:30PM
Policing in the USA - Wednesday, July 29th, 4-5:30PM

Once registered, participants will use the same Zoom meeting ID and password for each session.
Time
School of Education Virtual Series on Justice in July 2020: PittEd Justice Collective!  
The PittEd Justice Collective has partnered with Transform for Tomorrow as well as with the Grable Foundation, the Allegheny Intermediate Unit, and Remake Learning to offer a three-part virtual series on equity, justice, and antiracism for PK-16 educators and school leaders. All students, faculty, staff, and district and community partners are welcome to attend any of the sessions. View the program flyer (PDF) and click here to register.
July 14th, 10:30-11:30am: "Justice Learning and Leading" with Lori Delale-O'Conner, Dennis Henderson, and Linda Lane, and moderated by Valerie Kinloch.
July 16th, 1-2pm: "Justice Teaching in STEM" with Kari Kokka, Michelle Cody, and ReAnna S. Roby, and moderated by Valerie Kinloch.
July 21th, 10:30-11:30am: "Justice Listening and Strategizing" featuring high school and college students who will share stories about racism and educational inequities, and moderated by Tyra Good and Valerie Kinloch. 
White Co-Conspirators Groups:
The PittEd Justice Collective will situate equity and justice within our School's internal operations, culture, climate, and academic engagements. As part of this effort, we will have several white co-conspirators groups led by white colleagues in our School (e.g. staff, students, and faculty), starting with groups led by Amanda Godley, Linda DeAngelo, and Courtney Ross. Groups will serve as forums for white people to further their learning about, and collaborations on, equity, justice, and antiracism, with the expectation that this work will lead to meaningful co-conspiring and activism. Although participation is optional, it is highly encouraged. Click here to complete a brief form and to indicate your interest. More details will be shared soon. 

Additional updates on the PittEd Justice Collective will be shared with you as they become available. Visit PittEd Justice Collective website for more information about the Collective and about how to join our mailing list. Also, feel free to email PittEdJusticeCollective@pitt.edu with questions.
Center for Urban Education's 2020 Summer Educator Forum (CUESEF)
All Pitt faculty and staff are invited to join the School of Education for the Center for Urban Education's 2020 Summer Educator Forum (CUESEF) on Thursdays in July at 2 p.m. This year's theme is "Crisis Pedagogies: Communities, Education, and the Public Good." All five dialogues are free and open to the public and will be moderated by author and activist Marc Lamont Hill. Attendees are welcome and encouraged to attend all sessions. Registration is required.
 
July 2, 2020 | 2-4 p.m.  Teach the Teachers Youth Panel

July 9, 2020 | 2-4 p.m. Care-Giving and Circles of Support

July 16, 2020| 2-4 p.m. Community Perspectives: Health, Faith, and Action

July 23, 2020 | 2-4 p.m.  Toward Critical Pedagogy: Teachers and Teaching

July 30, 2020 | 2-4 p.m. Planning for Black Futures: Leadership and Policy Perspectives.
Learn more and register: https://bit.ly/2Ni6464
CUSEF 2020 – Crisis Pedagogies: Communities, Education, and the Public Good: We are living in hard times. This year has seen unprecedented levels of turmoil due to rising alarm over the COVID-19 pandemic with the most vulnerable populations experiencing the hardest impact. In addition, extrajudicial and vigilante killings of Black people have sparked global uprisings at a scale unseen since the 1968 assassination of Martin Luther King, Jr. Both COVID-19 and anti-Black state violence lay bare racialized inequities.
Underexplored in this moment are schools and schooling which bear out the realities of education as sites of power and control. Hence, this year's CUESEF takes a closer look at how various communities have been affected in the wake of these crises. We hope to foster deep thinking about (in)justice and (un)learning in the U.S. and Pittsburgh, Pennsylvania, more specifically. A related aim is sharing ideas and strategies for intervention and change that insist on life, equity, and liberatory education as essential to the public good.
www.universityannouncements.pitt.edu/CUESEF 2020.pdf
For more information about Read Green, please visit http://technology.pitt.edu/readgreen
Anti-Racism Resources: Unlearn and Learn
Antiracist Reading Lists
See also:
Understand the Facts
Engage with Research, Tools, and Resources Offered by Universities
Access Pedagogical Resources
Talk About Race and Racism with Children
Advance Anti-Racist Efforts
Prepare to Have Difficult Conversations About Racism and Bias
Engage with ongoing efforts to advance diversity, equity, and inclusion in your department, the Dietrich School, and University.
Participate in Forums, Trainings, and Conversations at Pitt and Beyond
Engage with Organizations
U.S. Citizens: Vote in Federal, State and Local Elections
Elected officials at the state and local level matter most with regard to issues such as reformation of police department and criminal justice systems.
The University of Pittsburgh and Children's Hospital of Pittsburgh are conducting a survey that seeks to understand the most effective needs and support for the community during these difficult times. The survey takes just a few minutes to complete. It's in Spanish and $ 100 will be raffling between those who complete the survey. You can find the survey on the following website at the end of the page.

Please click on the link:
https://www.pediatrics.pitt.edu/family-strengths-survey
Care & Connection Callers
Your help is needed to support our partners in reaching out, via telephone, to the families and individuals they serve to be sure people feel connected to the resources they need. Sign-up to volunteer.
Volunteers will be placed with a variety of organizations and institutions to make calls according to the partners' needs and specifications. Volunteers will receive a general training from the University of Pittsburgh's Office of Community & Governmental Relations to ensure positive and safe calling practices and then will participate in training specific to the organization in which the volunteer is placed. Care and Connection Callers:
Provide a connection with people who may be isolated.

Assess economic and social needs.  

Connect people to community resources and United Way 2-1-1 as needed.

Report back to the sponsoring organization any follow-up that is needed. 
Who are we looking for to be Care and Connection Callers?
University volunteers who:
Have access to a phone, a computer and the internet.

Are willing to participate in two training programs- one through Pitt and one through their sponsoring organization, 

Are able to follow a conversational script that guides the outreach calls.

Are able to listen to and read COVID-19 informational resources before they make calls so they have the most up-to-date information to share with those they call.

Are able to commit to weekly service. 
If you are a community organization looking for help..
Pitt is open to partnering with you! Please contact Carrie Finklestein at cgf18@pitt.edu to begin the conversation.
STUDENT EMERGENCY ASSISTANCE FUND IS NOW AVAILABLE 
The Student Emergency Assistance Fund is a joint venture led by the Office of the Provost, Office of Philanthropic & Alumni Engagement, Student Government Board, the Graduate & Professional Student Government, and the Division of Student Affairs at the University of Pittsburgh. The health and safety of our Pitt community, particularly our students, is paramount. The fund, to be administered at the direction of the Provost, will be used to provide financial support for degree-seeking students of the University of Pittsburgh with unanticipated and insurmountable expenses related to emergency situations that may result in students facing financial hardship. Undergraduate, graduate, and professional students may apply for funds when they experience a financial barrier based on an emergency situation, and when they have exhausted all other available resources.
Expenses Covered by the Fund
Examples of emergency expenses to be considered include, but are not limited to:
Medical necessities

Food insecurity

Unexpected transportation and travel expenses

Overdue utility bills reaching a turn-off notice

Homelessness, sudden loss of housing, or imminent eviction

Loss of childcare

Academic supplies and technology repair or support

Up to $600 may be requested
Expenses Not Covered by the Fund
Tuition, fees, health insurance, and study abroad costs

Non-essential personal bills such as: current utility, credit card, cable, cell phone, etc.

Parking tickets, library fines, or other expenses mistakenly incurred

Funds for the replacement of lost or stolen items

Rent payments are not covered by the fund unless a one-time payment will delay or halt an eviction.
Hold on Eviction
Students who live off-campus should be aware of their Tenants' Rights. In addition, the Attorney General of Pennsylvania has recently issued an order that evictions cannot take place at this time. The Pennsylvania Supreme Court ordered courts closed to eviction proceedings due to the COVID-19 state of emergency. The Court's order is applicable to all Pennsylvania property owners, managers, landlords, as well as mortgage brokers and lenders.
Eligibility Requirements
Any Pitt student may apply for emergency funds. Each applicant must meet the following criteria:
Demonstrate financial hardship

Experience an emergency, accident, illness, or other unforeseen event among the "covered" examples above

Be currently enrolled as a full-time or part-time, degree-seeking student
Applicants must complete all questions in full and submit a justification and supporting documentation as the situation allows. Examples of supporting documentation include but are not limited to:
Eviction notice

Utility bills indicating shut-off notice

Medical bills
 
Students with non-emergent financial hardships that do not qualify for the Student Emergency Assistance Fund, including student account balances, are encouraged to contact the Office of Financial Aid directly to discuss their situation and talk about possible aid options.
 
Application Process
Students in need of emergency financial assistance are encouraged to submit the application. Questions may be directed to emergencyfund@pitt.edu.
 
Completed applications are reviewed by members of the Student Emergency Assistance Fund Advisory Committee that includes representatives from Student Affairs and the Office of Financial Aid. A member of the committee will respond to emergency application submissions within 72 hours or three business days.
 
The maximum emergency aid allocation to a student will be $600. Payment will be distributed as soon as possible consistent with University policies and procedures. Each application is carefully reviewed to ensure all other financial aid resources are maximized first.
 
Students should set up direct deposit in PittPAY
How Do I Sign Up for Direct Deposit (eRefunds)?
Log onto PittPAY from the Student PittPay Login at payments.pitt.edu.
Select the eRefund tab.
Enter your bank routing and account information
Once you save the information, you will receive a confirmation email from PittPAY.
Students should be aware that emergency funding may create a taxable event that could require reporting to the IRS by the recipient.
PITT PANDEMIC SERVICE INITIATIVE
Chancellor Patrick Gallagher called upon the University to acknowledge our role in the response during this time of great challenge… Join us in Pitt's Pandemic Service Initiative: expanding staff, faculty, and student service; contributing to drives and collections; and forging innovative partnerships. We are rolling up our sleeves.
 
PANDEMIC RESPONSE SERVICE OPPORTUNITIES
As part of the Pitt Pandemic Service Initiative, faculty, staff, and students are coming together to meet critical community needs. You can make a difference with even just a small amount of time. Priority needs identified by community partners include care and connection calls and IT support.
Student Service


Faculty/Staff Service 


Drives and Collections

We're committed to being a University of the community. In response to the COVID-19 pandemic, Pitt students, faculty, and staff are volunteering to provide technology support, well-checks, and a host of other forms of support. 
For community members, this means access to resources and information. 
RESOURCES & SUPPORT »  
 SHARE WAYS PITT CAN VOLUNTEER »
Updates from Hillman Library
COVID-19 CLOSURE
Currently, all ULS libraries are closed, but if you have questions, please contact Ask Us or check the Library Response & Resources page for ways the library can still help!
---
Nearly 50% of our print book collection is now available online until the end of summer!
 Full-text versions of all books offered through HathiTrust that are also in the ULS collections are available online to Pitt faculty, students, and staff temporarily through the summer. Simply search the catalog and look for the "HathiTrust" link. 
No-Contact Pickup of Print Materials! 
Starting June 24, Pitt faculty, staff, and students can request print materials that are not available via HathiTrust for no-contact pickup.  
If you find an item in the catalog that has a "Request This Item" button enabled, please choose the "Request Whole Book" option and indicate your preferred pick-up location. Note that Owen Library at Pitt Johnstown will not be pick-up location until July 6. You may select up to 15 items at a time. You will be contacted via email with instructions for when and how to retrieve your items. Beginning on July 6 you will also be able to request print items via ILL for no-contact pickup. Please Ask Us if you have any questions. Not able to pick up your items? Starting July 6, we will mail them to you! This service is available for US addresses only.  This service is available for ULS-owned items shipped to US addresses only.
No Need to Renew Checked Out Items 
As a reminder, you do not need to renew or return your materials to the library at this time. All library materials (including E-ZBorrow and Interlibrary Loans) are now due Sept. 30, 2020. See our FAQ further down this page for information about returning your materials.  
A New PittCat Library Catalog is Coming in July 2020! 
Visit https://newpittcat.pitt.edu for more information and be sure to check out this introductory video! 
Archives and Special Collections Reading Room at Thomas Boulevard to Open 
As of June 22, the Archives and Special Collections Reading Room at Thomas Boulevard is now open by appointment only. Appointments are for Pitt affiliates only and require at least 48 hours advanced notice. The number of patrons and staff will be limited to maintain social distancing. Please note that all patrons must wear a self-provided mask and will be supplied with gloves. As part of the University of Pittsburgh's efforts to ensure a safe and healthy environment for all employees and visitors on campus, a self-attestation of symptoms must be completed for every day an individual comes to the campus for any reason and for any length of time. Contact us to request an appointment. One of our archivists will follow-up with you to schedule your appointment. 
Library Access 
At this time, ULS libraries remain closed and are expected to reopen to the Pitt community in early August. Please note that many vendors and other providers have opened emergency access to their full-text online resources. Please see our Online Research, Teaching, and Learning @ Pitt: Resources and Support from the ULS guide for what is currently available beyond our subscriptions. ​​​
 
Remote Access to Library Resources
Support for Online Teaching
---
PittCat
The new "PittCat", which will be shared with the Health Sciences and Law Library systems, offers powerful, intuitive search, unique tools for the discovery of content and ideas, and streamlined ways to get the material you need, when you need it, in formats that are right for you.
www.universityannouncements.pitt.edu/ULS PittCat.pdf
For more information about Read Green, please visit http://technology.pitt.edu/readgreen
---
New ULS Journal Publications!
The 
International Journal of Medical Students
 began publishing a 
Forthcoming
 issue of in-press articles after they have undergone peer review and have been accepted but prior to the formal production process. Four new articles were added last week.
Dentistry 3000, which publishes articles on a rolling basis as they are ready, published Comparative evaluation of retentive strength of polyvinyl siloxane impression materials to custom tray using different tray adhesives: An In Vitro study on May 4th.
The 
Bolivian Studies Journal
 published 
Volume 25, 2019
 on May 11th.

The 
Dialogic Pedagogy Journal
, which publishes articles on a rolling basis as they are ready, published 
Moving from collaboration to critical dialogue in action in education
 on May 11th.

If you have any other questions, please do not hesitate to contact the ULS Director,

Kornelia Tancheva at 
tancheva@pitt.edu
.
The census counts every person living in the United States, regardless of age or citizenship status, every 10 years in years ending in 0.

It's in the Constitution. It's important

 It's about money, power, and data.

Every 10 years we help decide how taxpayer dollars come back to our communities. The 2020 Census will help to distribute billions of dollars in federal resources to your community.

Our community gets resources based on census population counts, that help pay for hospitals, emergency services, schools, roads, and more.

An accurate and complete census helps businesses, community leaders and elected officials make informed decisions every day.

It's easy

For the first time, people can respond online and by phone, in addition to the mail-in option. Your response impacts funding for your community for critical services for the next 10 years!

The next decennial census happens in 2030. It's safe and confidential

Your data is protected and it's confidential. Federal law protects your responses, which cannot be shared with law enforcement, immigration agencies, or housing authorities.
The 2020 Census is underway and the most important and safe thing you can do is respond online, by phone, or by mail. It has never been easier to respond to the 2020 Census.

Responding now will minimize the need for the Census Bureau to send census takers out into communities to follow up with households.
Join the All for All Coalition!
The All for All Coalition is an action-oriented collaborative network that aims to advance immigrant inclusion to create a welcoming region for all. The coalition's action framework is anchored in the ongoing implementation of the 
Immigrant Community Blueprint: Helping Immigrants Thrive in Allegheny County
 and designed to adapt to new and unanticipated challenges shared by the group. The coalition will also work in affiliation with 
Welcoming Pittsburgh
, ensuring that progress on the Community Blueprint is complementary to the city's Welcoming Pittsburgh Plan. The All for All Coalition will streamline action through collaboration between members and involvement of new partners. 
The Global Switchboard
 powers the All for All Coalition and will work with coalition members to establish approaches to implementing the blueprint with values based in human rights, human dignity and anti-racism.
This application is for people and organizations that contribute to the goals of the Immigrant Community Blueprint, it will take less than 10 minutes to complete.
Please email allforall@theglobalswitchboard.org if you have any questions.
Welcoming Pittsburgh Secures $500,000 Grant for COVID-19
Cash Assistance Program to Serve Vulnerable Immigrant Communities
The Mayor's Office of Equity's Welcoming Pittsburgh initiative has secured a $500,000 grant from Open Society Foundations for the COVID-19 Cash Assistance Program. The program will be run by local community organizations that serve immigrant and refugee communities who will disburse funding to residents who did not receive a federal stimulus payment.  
Money from the grant will go to Welcoming Pittsburgh's local community partners to distribute directly to individuals and families in the communities they serve through an application process. Assisting in the creation of this fund were Acculturation for Justice, Access and Peace Outreach, Asian Pacific American Labor Alliance, Casa San Jose, Jewish Family & Community Services, and Union of African Communities. These community organizations may have additional services or programs available for those who need other kinds of support.  
Those interested in the program should contact welcomingpgh@gmail.com for more information about applying or assistance with language access. Funds will be disbursed over the next several weeks on a first-come, first serve basis. No interviews are necessary to receive payment.  
Resources for Individuals and Families
County-wide Childcare Locator Tool​: can assist families in locating child care providers that are open now or are opening in near future

Reach out to the Early Learning Resource Center if they need additional help or other resources 412-350-3577

FOR ESSENTIAL WORKERS IN NEED OF CHILDCARE, PLEASE CONTACT: Early Learning Resource Center 412-350-3577 

Drive-thru CoronaVirus Testing: ​Must have photo identification and an insurance card.​ Sites are at the following locations:

127 Anderson St., Pittsburgh, PA 15212

95 Leonard Ave., Washington, PA 15301

2360 Hospital Drive, Aliquippa, PA 15001

UPMC Testing Information:

Testing sites are not open for walk-in testing. Patients need a physician order or an appointment with the collection center. The UPMC provider who orders the test will call the patient with results. The time to receive results varies based on collection site and volume. Those without a UPMC provider will be contacted by the central COVID-19 team. Patients should check with their PCP or log into MyUPMC.com for results. Patients who have their samples taken should self-isolate until they receive results.

Free Testing (with appointment):

Please call a location near you to
schedule an appointment.

Alma Illery Medical Center, 7227 Hamilton Avenue, Pittsburgh. PA 15208
412-244-4700
Braddock Family Health Center, 404 Braddock Avenue, Pittsburgh, PA 15104
(412) 351-6400
East End Community Health Center, 117 N Negley Avenue, Pittsburgh, PA 15206
(412) 404-4000
Hazelwood Family Health Center, 4918 Second Avenue, Pittsburgh, PA, 15207
(412) 422-9520
Hill House Health Center, 1835 Centre Avenue, Pittsburgh, PA, 15219
412-261-0937
McKeesport Family Health Center, 627 Lysle Boulevard, McKeesport, PA, 15132 (412) 664-4112
West End Health Center, 415 Neptune Street, Pittsburgh, PA,15220
(412) 921-7200
Wilkinsburg Family Health Center, 807 Wallace Avenue, Pittsburgh, PA, 15221
(412) 247-5216
West End Family Dental Center, 441 Main Street, Pittsburgh, PA, 15220
(412) 922-5636
Steel Valley Family Health Center, 1800 West Street. Suite 110, Homestead, PA, 15120
(412) 461-3863

COVID-19 Hotline:​ 

Please call 888-856-2774 to speak with a representative. 

Hotline information is available in Arabic, Chinese, Nepalese, Russian, Spanish and Swahili.

Public Transportation​: ​Port Authority of Allegheny County will reduce bus and light rail service by approximately 25% beginning Wednesday, March 25, 2020, due to substantial decreases in ridership and operational challenges brought on by the ongoing global pandemic.

Online Learning Resources:

PA Immigrant Relief Fund (Sundrop Carter): PIC has started a fund to provide an $800 one-time payment to those who are excluded from government stimulus money due to immigration status.

UPMC:

Testing sites are not open for walk-in testing. Patients need a physician order or an appointment with the collection center. The UPMC provider who orders the test will call the patient with results. The time to receive results varies based on the collection site and volume. Those without a UPMC provider will be contacted by the central COVID-19 team. Patients should check with their PCP or log into MyUPMC.com for results. Patients who have their samples taken should self-isolate until they receive results.

Allegheny Health Network (AHN):

If you're experiencing symptoms — such as fever, cough, or shortness of breath — stay in your home. Call your doctor's office, schedule a virtual visit through MyChart, or call (412) NURSE-4-U (412) 687-7348 to discuss symptoms and next steps.
Your doctor will evaluate you based on your symptoms and determine the best course of treatment, which may or may not include a COVID-19 test.

After the COVID-19 test is ordered, an AHN care specialist will contact you directly, within 48 hours to set up your appointment at a Coronavirus testing collection site.

Northview Heights Clinic:

525 Mount Pleasant Rd, Pittsburgh, PA - 15214
Phone:  412-322-7500

Self-swab testing is now available, less invasive than previous testing methods.

Drive through and walk-up testing, available in any language needed
Everyone and anyone is eligible to be tested

Contact your healthcare provider by phone before coming to a clinic or hospital if you meet the following criteria:

Symptoms such as fever, cough or shortness of breath and Travel to countries with coronavirus alerts within 14 days of onset of symptoms or
Contact with someone with confirmed COVID-19 within 14 days of onset of systems

This clinic operates under a SLIDING SCALE model. This means that it MAY NOT be free depending on your income. You will be required to prove financial need in order to receive free services or services at a reduced cost. This is a health care center funded by the federal government. This means even if you have no insurance you can be covered. The center is also income based for those making an income. 
Organizations
For Families and Individuals: 

For Workers
 
The Department of Human Services have reached out to one of our partners, Fr. Paul Abernathy of the Neighborhood Resilience Project, to ask if he could help connect his Community Health Deputy model to refugee and immigrant communities. He and Dr. Amanda Godley (Pitt School of Ed) are working to make that happen. Pitt has come alongside Fr. Paul on this project in a number of ways (social work, public health, both CECs), and we are committed to continuing this partnership. 
 
One of the immediate needs they have is to develop translational teams that can work to translate the Community Health Deputy training materials for a variety of audiences. We are looking to find out what translational assistance might be found through ULS and UCIS. We also believe we can tap some assistance at UPMC. 
 
High priority languages include Spanish and Arabic, with more to be identified during an upcoming call with DHS. 
 
Any help you can provide would be appreciated.
 
Sincerely,
Lina
 
Lina Dostilio, EdD
Associate Vice Chancellor, Community Engagement 
Office of Community & Governmental Relations
Associate Professor of Practice, School of Education
University of Pittsburgh | 710 Alumni Hall | Pittsburgh, PA 15260
(P)  412-624-7719 | (C) 412-302-4810 | (E)  ldd20@pitt.edu
 
Small Business Resources
For more detailed information, visit http://entrepreneur.pitt.edu/business-resources-covid-19/
UPCOMING WEBINARS :
GET AUTOMATED: Sales and Marketing tools and best practices for the new norm

Free. Thursday, June 18, 11:00am to 12 noon.

Speaker is Chris Vendilli of ProFromGo Internet Marketing.

To register, please send an email to sbdc@innovation.pitt.edu

2nd Step: Developing a Business Plan – Webinar.

Free. Friday, June 19, 7:30am – 10:00am.

Speakers are a SBDC consultant, a lawyer from Maiello, Brungo, Maiello Law and a banker from Huntington Bank.

To register please send an email to sbdc@innovation.pitt.edu
COVID-19 Resource Pages
Organizations
Financial Support (Individuals and Small Businesses)
Business Links
The "Gift Cards as War Bonds" program is underway, and "I want you" to 
organize your neighborhood to participate
!  Here is what it takes;

For the poster campaign to drive business to our open and closed businesses to help them survive lost revenue due to our public health crisis.  Participating Groups / Neighborhoods will need to commit to the following;

1. Reach out to all businesses your able to contact in your area (not just folks on your mailing list) by email and phone if necessary to deliver and gather the following information;
a. Provide 
current OSHA guidelines
b. Make sure they are 
listed and current on google map
s
c. Gather info on if they are open, current phone number, website, and gift cards sales instructions

2. Create a web listing using all the information Gathered in 1c (see 
Hilltop Alliance Example
)
a. Web listing must also contain links to 
ACHD health guidance
, and
b. URA main page for this promotion (TBA), and
c. Information for businesses who would like to be added / included (must include BOTH phone and email contact)

3. Maintain the web listing, including
a. adding folks, and
b. altering listings of businesses as their statuses may change, and
c. periodically checking on businesses to verify listing accuracy

4. Promoting the campaign;
a. Distributing digital versions of the poster through social media, next door, newsletters, webpages, etc
b. Printing and hanging 8.5" x 11" posters when and where possible

NOTE: No remuneration will be provided to participants from the URA, City of Pittsburgh or any other project participant, this is a voluntary program.

For more information, contact 
henry.horn-pyatt@pittsburghpa.gov
CALL FOR PAPERS, TRAINING & CONFERENCES
CALL FOR PAPERS: IUP Hispanic Journal
The editors of Hispanic Journal invite submissions of unpublished studies all year around. Hispanic Journal is published twice annually by the Department of Foreign Languages and the Graduate School of Indiana University of Pennsylvania. Its purpose is to publish original research and criticism in the areas of Spanish, Spanish American, Portuguese, Catalan, Galician, and Basque literatures, languages, linguistics, and cinema of any period. We also publish interviews and book reviews. Submissions may be written in Spanish, English, or Portuguese.
All manuscripts must follow the guidelines set forth by the MLA Handbook for Writers of Research Papers, 8th ed., (2016).

Manuscripts should consist of at least 4,000 but not more than 7,000 words total.

Manuscripts must be single-spaced in Times 12 and written using Word 2007 or later.

In a cover letter, briefly present yourself, your work, and your work's word count. *Submissions should be sent electronically to the editor (vgiz@iup.edu, or owner-hispanic-journal@iup.edu)

All authors whose work is accepted for publication will be required to obtain a subscription to Hispanic Journal.

All articles published become the property of Hispanic Journal.
The current annual subscription rate for individuals is $45.00 (U.S.), and $61.00 (abroad). The current annual subscription rate for institutions is $80.00 (U.S.), and $96.00 (abroad). These prices include shipping and handling.

Send articles, book reviews and interviews to:

Vicente Gomis-Izquierdo, Editor Hispanic Journal
Department of Foreign Languages
478 Sutton Hall
Indiana University of Pennsylvania
Indiana, PA 15705

Questions? Please write to:
vgiz@iup.edu or hispanic-journal@iup.edu
Subject: HISPANIC JOURNAL
The Richard E. Greenleaf Library Fellowships
The Latin American Library at Tulane University is pleased to announce the Richard E. Greenleaf Fellowships to support research at the Library for 2020-2021. Their purpose is to offer researchers who permanently reside in any country of Latin America or the Caribbean short-term residential fellowships to use the resources of the Latin American Library at Tulane to conduct research in any field of the humanities or social sciences.
Up to three fellowships will be granted every year. Each fellowship will cover the full cost of round-trip airfare as well as housing expenses and a monthly stipend to cover living expenses for a period of two to three months, as well as full library privileges at Tulane University. Fellowships are available to any qualified scholar - including independent researchers - who resides permanently in any country in Latin America or the Caribbean (including Puerto Rico and the Anglophone Caribbean). Applications from scholars of any nationality who are permanent residents of any country in the region will be considered, but preference will be given to citizens of Latin American or Caribbean nations, including Puerto Rico. Citizens of Latin American/Caribbean countries currently living outside the region and Puerto Ricans residing outside the island are not eligible.
Fellows are expected to reside in New Orleans, to conduct research at the library for the term of the award, and to deliver a public presentation of their work-in-progress during their stay. Fellowships will be awarded on the basis of the applicant's scholarly qualifications, the merits and significance of the project, and the relevance of the Latin American Library's collections to the development of the project.
Aside from the residential requirement, criteria for selection include:
The merit of the research project and proposal, which should be in any field of the humanities or social sciences

The relevance to the project of the resources of the Latin American Library

The scholarly achievements and merit of the candidate, and the significance of his/her project
Latin American Studies Asociation (LASA) 
The LASA Career Center is free to all job seekers and provides you with access to employers and jobs from all over the world. For more information, please visit: 
https://www.lasaweb.org/en/job-seekers/
Rise is a student-led campaign advocating for free college and mobilizing student voters. We are hiring community college and university students in Pennsylvania to work with us for 10 weeks during the summer (with possible extension into the fall semester). Fellows will work up to 20 hours per week and earn $15 per hour leading online organizing efforts to help get out the vote, and have a flexible schedule that they can set around other work, academic, or family obligations. Organizers will be able to use Rise's voting tool at Rise.Vote to power their efforts and use creative online organizing tactics including social media outreach to recruit potential student voters. 
This position is available to any currently enrolled college student, and no previous political or organizing experience is required. Students will succeed in this role if they are ambitious, creative, and persistent. Please email Saba@RiseFree.org with any immediate questions. Applications will be reviewed on a rolling basis, so please apply as soon as possible.
 
The Global Switchboard is a nonprofit, nonpartisan organization that stewards a diverse network of people and organizations to transform the Pittsburgh region into a more globally engaged and equitable community. We utilize four tools to work towards our mission: a physical co-working space, a digital hub, a slate of programs and partnerships and a data-driven state of global engagement project. Together, these tools help us bring people together, encourage collaboration, and support our network.
All for All is a community coalition working to advance immigrant inclusion in the Pittsburgh region. All for All is guided by A Community Blueprint: Helping Immigrants Thrive in Allegheny County, a comprehensive, community-designed plan. Collectively, coalition members seek to build a regional movement that advances immigrant integration, removes barriers to success, and improves equity for all foreign-born residents including marginalized groups such as refugees, low-income individuals, and other under-resourced sub-populations. The Global Switchboard houses the coalition.
In addition to the knowledge, skills, and abilities listed below, the ideal candidate needs to be passionate about how people in Pittsburgh and the surrounding region engage the world, and the resulting implications on equity, human rights, and human dignity. Our office environment is small and informal, but dedicated and fast paced. A successful candidate is someone who is independent and confident in their work, has an ability to adjust to the demands of an evolving organization, and a commitment to teamwork suitable for a participatory organizational culture.
Responsibilities
Knowledge, Skills, and Abilities Required 
The Global Switchboard's compensation philosophy serves as a demonstration of the organization's commitment to transparency and its employees. Starting salaries are determined by a set percentage range benchmarked on a review of nonprofits in Allegheny County.  
Benefits: Full-time employees are eligible to enroll in health and dental insurance. Employees may also participate in a 403(b) retirement plan after six months employment. The Global Switchboard provides eleven paid holidays (6 permanent and 5 floating) a year as well as 15 days of paid vacation during their first year of employment.
To Apply: Email your resume, cover letter, and list of references to admin@theglobalswitchboard.org
Temporary, Part-Time: Management Consultant
All Temps - Pennsylvania-Pittsburgh - (20002558)
 
Candidate will provide business consulting and training services to new and existing businesses in the Western PA region. The services include: strategic marketing and communication strategies as businesses adjust to the post Covid-19 operating environment, analysis of functional areas of business, analysis of management capabilities, development of plans, and conducting market research of existing and potential markets.
In addition, candidate will develop relationships with local businesses and other economic development agencies in order to heighten the profile of the Institute for Entrepreneurial Excellence, the Innovation Institute and the University of Pittsburgh. This may include attending networking functions and conducting presentations including business seminars. Marketing of self and the consulting abilities of the candidate are important to success in the position.
Prior experience with small businesses expected

Knowledgeable in banking loan process preferred

Familiarity with business financial statements

Ability to work independently and contribute in a team environment   

MBA Preferred
The University of Pittsburgh is an Affirmative Action/Equal Opportunity Employer and values equality of opportunity, human dignity and diversity. EOE, including disability/vets
Department: Institute for Entrepreneurial Excellence

Assignment Category: Parttime-Temporary

Campus: Pittsburgh

Minimum Education Level: Required Baccalaureate

Minimum Experience Level: Required 3-5 years experience

Work Schedule: Varied - Approx. 25 hours per week

Requested Pay Rate: 50.00

Visa Sponsorship Provided: No

Background Check: For position finalists, employment with the University will require successful completion of a background check

Child Protection Clearances: Not Applicable

Required Documents: Resume

Optional Documents: Cover Letter
For more information, click here. 
The Financial Empowerment Center (FEC) program is operated through Advantage Credit Counseling Service, Inc. (ACCS), in partnership with the City of Pittsburgh and Neighborhood Allies. The FEC aims to improve the financial stability of Pittsburgh area residents by providing free, one-on-one, professional financial counseling and education. The FEC currently operates within seven sites around Pittsburgh, and this position will be located at a new, eighth site. The Financial Counselor position will report directly to the FEC Program Manager within ACCS. The Financial Counselor's primary purpose is to provide financial counseling, education, and support to individuals and families. The individual in this position will go through comprehensive financial counselor training, and help clients to manage their finances and achieve their financial goals in four focus areas: safe banking, establishing and building credit, reducing debt, and increasing savings. The FEC counselor will develop a rapport with the individuals they are working with and will provide case management and community referrals as necessary to help them become financially independent.
Responsibilities
Duties shall include, but are not limited to:
Assess client needs and develop individualized goals and service plans with each client;

Provide one-on-one financial counseling sessions (including both initial and follow-up sessions) to achieve client outcomes in four FEC focus areas;

Make appropriate community referrals and integrate other wrap-around supports (i.e. benefits, tax preparation, legal services) into counseling to achieve greater results;

Engage in ongoing follow-up with clients;

Collect, track and report required data using client management database;

Participate in initial trainings and ongoing professional development trainings as directed;

Follow required protocol and program requirements;

Successfully complete and pass financial counselor training.
Qualification Requirements
A bachelor's degree from an accredited college or university, plus two years of relevant work experience with some background in finance, financial education, counseling/coaching, or social service delivery;

Particular expertise in one of the following: financial services, social work, financial planning, coaching/mentoring, teaching, or other related fields.
Essential Skills
Knowledgeable about credit, debt, and general money management; savings and investment options; and safe financial products and services;

Excellent interpersonal skills and the ability to work independently;

Strong communication and organizational skills;

Excellent working knowledge of Microsoft Word, Excel, PowerPoint, and Outlook;

Available to work occasional evenings or weekends,

Ability to use or willingness/capacity to learn a client management database;

Comfortability with remote applications and service delivery (e.g. video conferencing and other platforms to communicate remotely);
Bilingual applicants are of interest for this position. Priority languages include Spanish, Nepali, and Swahili;
Ability to travel independently between multiple sites within the City of Pittsburgh and surrounding areas. Access to a car is preferred, but not required.
 
Gwen's Girls Academic Support
We are actively seeking community members, educators, college students, and professionals that are willing to virtually tutor students in grades 2-12 in various subjects.  A small stipend will be provided for those who can consistently commit to 5-10 hours per week. Please complete a brief application by clicking 
HERE.
  Also please forward your resume via email to  
contactus@gwensgirls.org
Stipend: $15.00 per hour and up, commensurate with educational and professional experience
Description: In collaboration with Gwen's Girls Staff, Tutors will work on an individual basis or in small group sessions via Zoom to support participants in Core Subject Areas and in meeting academic needs.  We are anticipating needs in English/Language Arts and Mathematics for students in grades 2-8 and content specific support such as Algebra I, Algebra II, Geometry, Pre-Calculus, and Calculus for students in grades 9-12.
Qualifications:
Tutors are selected on the basis of academic skill, leadership, character, and the ability to communicate well with others. Tutors are expected to have knowledge of the subject they are hired to tutor and the ability to communicate that knowledge to their participants. We expect that Tutors will have a positive perspective of Gwen's Girls and serve as role models.
All individuals interested in tutoring must possess or apply for appropriate clearances. No experience is necessary, however, experience working with children, instructional experience, coursework or degrees in education are highly preferred.
For additional information, please contact Merridith Murray at 
contactus@gwensgirls.org
 or 412-904-4239."
Pennsylvania Court Interpreter Program
Court interpreters are a vital tool in fulfilling the Judiciary's obligation to guarantee the rights of persons with limited English proficiency and those who are deaf or hard of hearing.
"Due process is a core value of the American judicial system, ensuring that every litigant and criminal defendant receives a fair hearing that is based on the merits of his or her case and presided over by an impartial judge. No one should be put at a disadvantage in court by reason of race, ethnicity, or gender. The basic fairness of the Pennsylvania court system is jeopardized if litigants with limited English proficiency (LEP) are unable to have access to competent interpreters and other language assistance."
- Final Report of the Pennsylvania Supreme Court, Committee on Racial and Gender Bias in the Justice System, March 2003
Become an Interpreter
The Interpreter Certification Program was established to provide trained and qualified interpreters for the courts of Pennsylvania. A statewide roster of qualified and certified interpreters helps each judicial district implement effective interpreter services. The program works with judges, administrators and the legal community to promote awareness of interpreter issues including training, testing, skills and the role of interpreters. For an overview of the need, requirements and qualifications, download the Become an Interpreter brochure. To learn more about the necessary qualifications to become a court interpreter, take the Self-Assessment Quiz, and read about the required Knowledge and Skills court interpreters must have. If you would like to become an interpreter, register for the Interpreter Certification Program.
Orientation Workshops
All candidates are required to attend a two-day orientation workshop sponsored by the Interpreter Certification Program. 
The interpreter program will be holding their next orientation workshop in Pittsburgh on May 2-3.
Workshops are offered in locations throughout the state. Dates and locations are posted on the interpreter program calendar as they are scheduled. 
Topics covered in the workshop include interpreting as a profession, the state's judicial system, ethics and professional development, interpreting skills and modes of interpretation. Candidates receive training materials, information about resources, legal glossaries and study tips for the written and oral examinations.
Workshops are taught by federal and RID certified interpreters who have legal interpreting experience. Candidates must attend both sessions to meet certification requirements. Sessions start at 8 a.m. and end at 5 p.m. each day and are limited to a maximum of 50 attendees.
Registration
To register for the orientation workshop, print, complete and mail the orientation registration form to the address at the bottom of the form. Since places are limited, it is important for candidates to submit registration forms as early as possible. The Interpreter Certification Program tries to accommodate candidates' date preference in the order forms are received. 
The cost of the workshop is $150 for state residents and $175 for non-residents. Registrations must be accompanied by full payment. Payment can be made by money order or personal check written to the Administrative Office of Pennsylvania Courts. Registration and payment must be received by 5 p.m. on the registration deadline listed as the first choice. A $25 fee is assessed for all returned checks. Registrations canceled before the confirmation letter is mailed are entitled to receive a full refund. Candidates who fail to attend the workshop will not receive a refund.
Download the orientation registration form.
Attendance
Once forms and payments are received, candidates are sent a confirmation email. Once registration closes, candidates receive a confirmation letter with the location of their orientation site, directions and any other relevant information. All arrangements are made at the candidate's expense. You must bring your confirmation letter and a valid government issued photo ID on the first day of the workshop.
Summer Teaching Jobs Available Nationwide:
Teach Reading Classes to Students of All Ages
Now Accepting Applications for Summer 2020
The Institute of Reading Development offers summer reading skills programs in partnership with the continuing education departments of more than 100 colleges and universities nationwide. Since 1970, the Institute's teachers have helped over 3 million students master valuable reading skills and develop a lifelong love of reading.  Programs designed by the Institute give students the right skills, books, and experiences that result in greater success in school and beyond.
We are currently hiring hard-working, encouraging people with a passion for reading to teach our summer programs. As an Institute teacher you will:
Earn up to $8,000 in one summer. Our full-time teachers typically earn $550-$700 per week.

Improve your teaching skills and confidence during our comprehensive, paid training program.

Gain over 400 hours of classroom teaching experience with a variety of age groups from 4-year-olds to adults.

Help your students become successful readers with a love of great books.
Successful Institute Teachers:
Have strong reading skills and read for pleasure

Are responsible and hard-working, with good communication and organizational skills

Will be patient and supportive with students
Best of all, you'll make a lasting impact on your students.

In order to apply for a teaching job you must have:
A completed undergraduate degree (min. 3.0 GPA) before teaching begins--We are seeking applicants from any academic discipline

Full-time use of a reliable car throughout the summer

A computer with a webcam for participating in video meetings

Minimal or no scheduling conflicts during the training and teaching season
Learn more about teaching for us and apply today: Summer Teaching Jobs
Job Posting: Business Development Representative ($1,000 Signing Bonus!)
Overview:
RoadRunner Recycling is seeking upbeat, proactive, goal-oriented individuals to join our inside sales team at the company headquarters in Pittsburgh, PA.  
As a Business Development Representative (BDR) you will be responsible for developing new business through proactive, strategic outreach methods including prospecting, cold-calling and lead qualification.
You will be assigned to one of our fast-growing markets and paired with an Account Executive in the field. Together you will work as a team develop leads and grow the business on a day by day basis!
If you're the type of person who gets excited about the opportunity for advancement in your career, then the RoadRunner Sales team is a great place for you!
As a BDR, you will have the ability to earn three promotions within your first year! Each promotion comes with additional responsibility and of course more compensation!
What you will be doing:
New business development

Lead-generation via prospecting

Cold calling

Building target call lists

Navigating the decision-making tree

Working closely with the Account Executive team
To be great in this role you must be:  
Career-oriented

Coachable

Resilient

Confident

Passionate about growth

Possess a winner's mentality 

Resourceful
Education: Two-year college degree required; 4-year college degree preferred
We offer:
First class leadership!

Educational 8-week training program led by our head trainer and top performing reps

The opportunity to earn three promotions during your first twelve months

Top level reps carry a total compensation package of $60,000 annually

Uncapped commission!

Fun and motivating monthly contests

First class Health, Dental, & Vision coverage

RoadRunner pays 99% of the coverage for the employee and 75% for spouse and any dependents. Employees are eligible for benefits coverage in their second month of employment.

401(k) with a generous 4% company match

Employees are eligible to participate after six months of employment

Commuter Benefits

17 Earned Paid Vacation/Personal Days each year
About RoadRunner Recycling:
RoadRunner Recycling is one of the fastest growing companies in America. We are transforming the waste and recycling industry with innovative thinking and unprecedented results. We create and manage end-to-end waste and recycling solutions for businesses large and small. Every day we cut carbon emissions, divert recyclables from landfill and reduce operating costs for our customers. With the belief that recycling should be mutually beneficial for the planet and our pockets, we help commercial businesses recycle more and spend less.  
Voted by Business Insider as the #1 Hottest Enterprise Start-Up in the Country!
Voted by the Tech Tribune as one of the 2020 Best Tech Startups in Pittsburgh
For consideration, PLEASE APPLY TODAY. We thank all applicants for their interest in RoadRunner Recycling, but only those selected for an interview will be contacted. We look forward to reading your application!
RoadRunner Recycling is an affirmative action and equal opportunity employer and is committed to the full inclusion of all qualified individuals. All qualified applicants will receive consideration for employment without regard to race, color, religion, sex, disability, age, sexual orientation, gender identity, national origin, veteran status, or genetic information. It is the policy of RoadRunner Recycling that qualified individuals with disabilities are not discriminated against because of their disabilities regarding job application procedures, hiring, and other terms and conditions of employment. It is further the policy of RoadRunner Recycling to provide reasonable accommodations to qualified individuals with disabilities in all aspects of the employment process. RoadRunner Recycling is prepared to modify or adjust the job application process or the job or work environment to make reasonable accommodations to the known physical or mental limitations of the applicant or employee to enable the applicant or employee to be considered for the position he or she desires, to perform the essential functions of the position in question, or to enjoy equal benefits and privileges of employment as are enjoyed by other similarly situated employees without disabilities, unless the accommodation will impose an undue hardship. To request reasonable accommodation, please contact our Human Resources department at RoadRunner Recycling, at HR@roadrunnerwm.com
Job Posting: Coordinator of Social Service Ministries
 
POSITION SUMMARY:
Good Samaritan Catholic Church is seeking a Coordinator of Social Service Ministries to serve the Latino community in Beaver County. This individual will be responsible for extending the mission of this Church to serve and support immigrants by connecting them with social service providers and empowering them to become more self-sufficient. The overall mission of this ministry is to connect Latino immigrants with services so that they may successfully adjust and thrive in the United States and Beaver County. The Coordinator of Social Service Ministries must keep sight of the ultimate goal of building self-sufficiency and to facilitate coordinating and accessing community resources to empower immigrants to do increasingly more for themselves and for each other.
 
This is a full-time position that will oversee a growing network of social services provided by Good Samaritan Catholic Church. This person will perform client intakes, individual assessments, coordination, and monitor the delivery of service coordination to high-need immigrant populations with language and cultural barriers. S/he will also oversee case assessments and management, referrals/coordination to social service, medical, and government agencies (etc.), and linkages with interpretation assistance and English classes. The ideal candidate will be fluent in both English and Spanish and have a background in serving minority communities.
 

QUALIFICATIONS & EXPERIENCE:

Bachelor's Degree in social service, education or related field (Master's Degree a plus), and/or 3 years of experience with immigrant services, service coordination or other social services.

Alert to cross-cultural differences in dealing with foreign-born clients, able to behave in a culturally sensitive manner, and to respond appropriately to the cultural characteristics of the clients.

Excellent team player with organizational, communication, and leadership skills.

Be a practicing Catholic with familiarity with Catholic theology and social teachings.

Fluent or near fluent reading, writing, and speaking in English and Spanish. Experience in translation-interpretation is preferred.

Strict adherence to confidentiality and ability to pass a background check.

Flexible schedule for some evening and weekend hours. Car required.

 

DUTIES & RESPONSIBILITIES:

Screen/meet with clients to determine and assess gaps in service, English proficiency level, medical needs, social service and other needs, provide referrals, and track progress on a regular basis.

Develop individual plans that aim to build competence in accessing services independently.

Coordinate services and referrals with partner agencies, County human service providers, schools, healthcare and government entities, etc.

Interpret in person or by phone to connect immigrants with services.

Collect and record client data, producing measurable outcomes, as appropriate.

Write case notes for all activities on behalf of clients, including any telephone communications.

Perform Exit interviews during last quarter to determine successes and future plans.

Serve as cultural liaison, informing internal and external providers on culture, norms and customs, and orienting immigrants to American systems, customs and culture.

Practice cultural sensitivity while engaging with professional partners, communities, and clients.

Recruit, train, and manage a team of volunteers to support the ministry and outreach.

Liaise with an ESL Coordinator and office staff to ensure room requests, schedule, announcements, and other ESL needs for clients needing English class referrals.

Attend any meetings required by supervisor.

Manage social media communications with Latino community.

SUPERVISOR: Casa San Jose, Monica Ruiz, Executive Director

 
Beginning August 2020
St. Edmund's Academy seeks a dedicated and dynamic educator to teach Spanish at St. Edmund's Academy.
The teacher will be responsible for designing curriculum, planning lessons, and promoting the world language program in collaboration with the school's academic leaders. The teacher will also partner with the French and Latin teachers to implement a program that emphasizes fluency, linguistic dexterity, and an appreciation for global perspectives and the cultural aspects of language instruction.
Candidates must possess enthusiasm for 21st century pedagogy, be open to change and new ideas, and have an outstanding record teaching elementary and/or middle school age groups. Excellent writing skills and strong verbal communication are expected. Ability to be positive, collaborative, detail-oriented, and innovative is essential. Candidates must have the capacity to teach extended periods in a rotating block schedule.
Educators dedicated to meeting the academic, social, emotional and personal needs of children should apply. A Bachelor's degree is required; a Master's degree is preferred. Preference will be given to candidates who are fluent in more than two languages.
St. Edmund's Academy does not discriminate on the basis of race, gender, religion, national or ethnic origin, or sexual orientation in the administration of its employment policies, or any other policy of the program.
Mission
St. Edmund's Academy provides an exceptional independent school experience for students in preschool through 8th grade, combining a rigorous academic curriculum with enduring Core Values and rich tradition in a nurturing environment.
Core Values
Respect for the needs and feelings of others

Understanding and appreciation of the differences among people

The worthiness of service to others

The importance of taking responsibility for one's own conduct

The central role of honesty in relationships

The value of setting high standards in all endeavors
Core Competencies
Character

Critical thinking

Communication

Collaboration

Creativity

Cross-cultural competency

Interested candidates should send a résumé and cover letter to:

Thu-Nga Morris
Assistant Head of School, Director of Academics, and Director of Upper School
thungamorris@stedmunds.net
St. Edmund's Academy
5705 Darlington Road
Pittsburgh, PA 15217
ACADEMIC ORGANIZATIONS AND RESOURCES