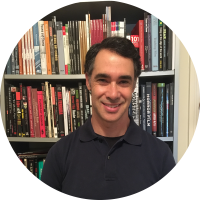 Adam Lowenstein works on issues relating to the cinema as a mode of historical, cultural, and aesthetic confrontation. His teaching and research link these issues to the relays between genre films and art films, cinema and digital media, the politics of spectatorship, and the construction of national cinemas (with particular attention to American, Australian, British, Canadian, French, Israeli, Italian, and Japanese cases). His areas of interest range from surrealism to trauma studies to Frankfurt School film and cultural theory.
He is especially invested in horror studies and is the Director of Pitt's Horror Studies Working Group as well as a board member of the George A. Romero Foundation. He played a central role in the acquisition of the George A. Romero Collection for Pitt's Horror Studies Archive, an initiative that continues to grow through the University Library System's Department of Archives and Special Collections.
As GAP Fellow Dr. Lowenstein will work with colleagues to diversify and globalize the Horror Studies Archive recently created by Pitt's University Library System. The Global Horror Studies Archival and Research Network will be the first of its kind. Horror is a truly global vocabulary. Each nation has its own historically- and culturally- specific inflections regarding horror, but nearly every country in the world has an artistic horror tradition of some kind that is recognizable through the lens of the others, and all are shaped by transnational influences and global developments.
To learn more and attend a virtual Global Horror Studios Session click here!