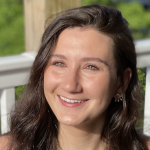 Administrative & Program Assistant
Office Location:
4200 Wesley W. Posvar Hall
Alexis graduated from the University of Pittsburgh in 2020 with a B.A. in Political Science and Spanish, a minor in Portuguese, and a Certificate in Latin American studies. During her undergraduate career she carried out research in Mexico, studied abroad in Chile, and served as a Teaching Assistant for the CLAS Seminar and Field Trip program to Colombia. Throughout her senior year she served as a CLAS Ambassador to promote interdisciplinary programming on Latin America and various opportunities at the University Center for International Studies.
Upon graduation, Alexis worked at Brown University's Swearer Center for Public Service, supporting reciprocal partnerships between the university and local/state entities (schools, nonprofits, government agencies) and facilitating student workshops to enhance experiential learning. In 2021, Alexis returned to CLAS to work with the administrative and academic operations of the Center such as coordinating the film series, events, lectures, community outreach, and assisting with student programs.