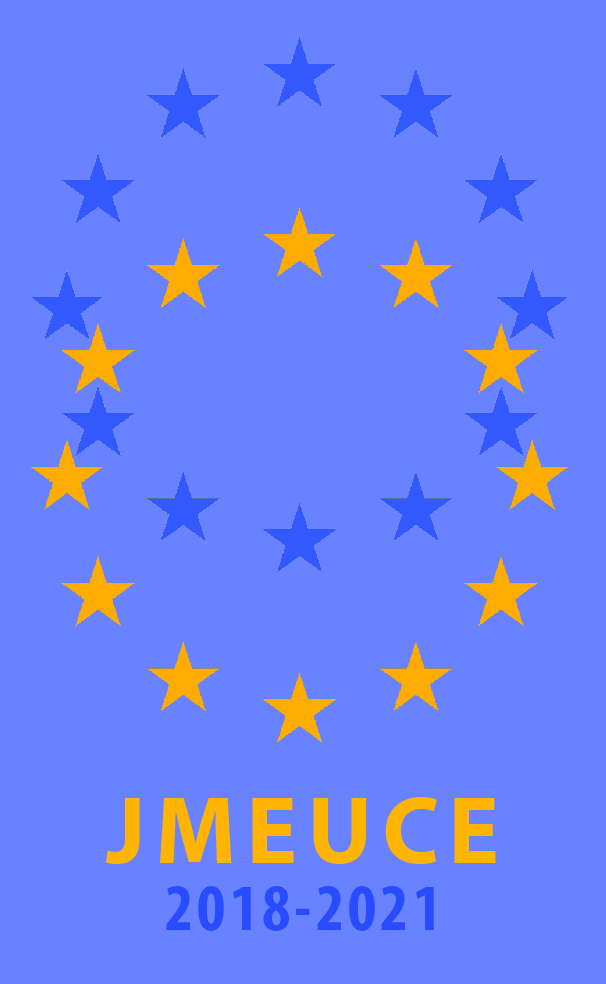 Jean Monnet European Union Center of Excellence (JMEUCE)
Period of grant: September 1, 2018 – August 31, 2021
Sponsor: European Union – Erasmus+ Higher Education
Call for Proposals EAC/A05/2017 – Jean Monnet Activities
Project No 600173-EPP-1-2018-1-US-EPPJMO-NETWORK
Pitt's JMEUCE grant funds faculty and graduate student research and teaching that explores Europe as a historical project, Europe as a cultural project, and European responses to contemporary issues. 
Programming during the grant cycle will explore the following themes:
Year One: Global Europe (AY 2018-19)
Year Two: Memory and Politics (AY 2019-2020) – Activities in this year will explore the intersections between lived memory, historical memory, and contemporary politics in the formation of subnational, national, and supranational identities.
Year Three: Creating Europe (AY 2020-2021) – This theme invites scholarly and artistic reflections on how Europe has been defined and created in the past, and how that process continues in the present.
OTHER ACTIVITIES:
EU Studies Teaching Fellowship – Providing graduate teaching experience in EU studies (PS 1317).

Fall 2018 selected Teaching Fellow:  Anthony Ocepek, Political Science
Fall 2019 selected Teaching Fellow:  Brianna Howell, Political Science
Fall 2020 selected Teaching Fellow:  Omar Zarpli, Political Science
 

"Pop-up" courses (See funded courses under each year's theme above.)
 
Transatlantic Policy and Governance Study Abroad Program in D.C. and Brussels
 
Summer Research Scholars Program – providing support for scholars from around the world to research in Pitt's unique archival collection, the Barbara Sloan EU Depository Collection.  Applications for Summer Research Scholars open in the Spring.  Learn more about the program and how to apply.
Summer Scholars 2019:  Boyka Stafanova, University of Texas at San Antonio and Ryan Phillips, Lycoming College
Jean Monnet Symposia
Event Celebrating the 20th Anniversary of the European Union Centers of Excellence Program and honoring the contributions of Pitt professor and vice provost, Alberta Sbragia. The event was held March 2019 in Brussels, Belgium.  Visit the website.
 
Graduate Workshop-  "EU Cultural Policy: How To..." on March 8, 2021
​Support for the Critical European Culture Studies Ph.D. Program at Pitt

See also: European Culture Research Network, Council for European Studies
Speaker Tour:

February 28, 2019 Randall Halle, "Critical European Studies: How to" at the University of California, Irvine's Department of European Languages and Studies 
March 1, 2019 "Creative Europe: A Practical Guide to Cultural Policy and Practice in Europe" Workshop at UC, Irvine.
March 11, 2019 Randall Halle, "A Framework for Critical European Culture Studies" at the Colorado European Union Center of Excellence followed by a Researching European Culture Workshop "Creative Europe: A Practical Guide to Cultural Policy and Practice in Europe".   
March 12, 2019 Screening and Talk by Randall Halle at the Center for Contemporary Arts, Santa Fe, New Mexico
March 26, 2019 Randall Halle lecture at Florida International University in Miami (flyer) on How to Do European Culture Studies 
 

Faculty Research Grants in EU Studies - Applications accepted each Spring

Projects funded:

2019: Gemma Marolda, Department of Political Science , "Rescuing Lives at Sea: From Humanitarian Rescue to Border Security in the Central Mediterranean" - supporting in-depth research of EU official documents and Italian government documents on irregular migraiton in the Central Mediterranean.  Research and interviews conducted with officials, researchers, and experts in Brussels, Rome, and Catania.
Support for the EU Jean Monnet Network in the U.S. - Meetings held in Denver (year one), D.C. (year two), and Miami (year three) focus on collaboration and coordination among EU Centers throughout the United States.  Funds also exist to support visitors at another center in the U.S. adding a stop in Pittsburgh to their itinerary in order to learn more about the U.S. and better leverage grant funds. 
Funded by a grant from the European Commission