Virtual Showcase: 2021 Interdisciplinary Global Educators

Wednesday, October 27 at 7pm (EST)
Zoom
This past June, the Global Studies Center and the University Center for International Studies at the University of Pittsburgh hosted the Interdisciplinary Global Educators Working Group, where teachers came together virtually to design an interdisciplinary global unit or lesson. They were provided time, space, and materials to gather with like-minded colleagues and collaborate on unique and inspired lesson plans across subject areas.
Join us over Zoom for virtual presentations from our working groups on their newly designed projects and the process they went through in designing their interdisciplinary lessons. If you are interested in participating in this workshop in the future, this is an excellent opportunity to learn more!
This showcase is open to all K-12 educators and administrators.
Cartonera Teacher Workshop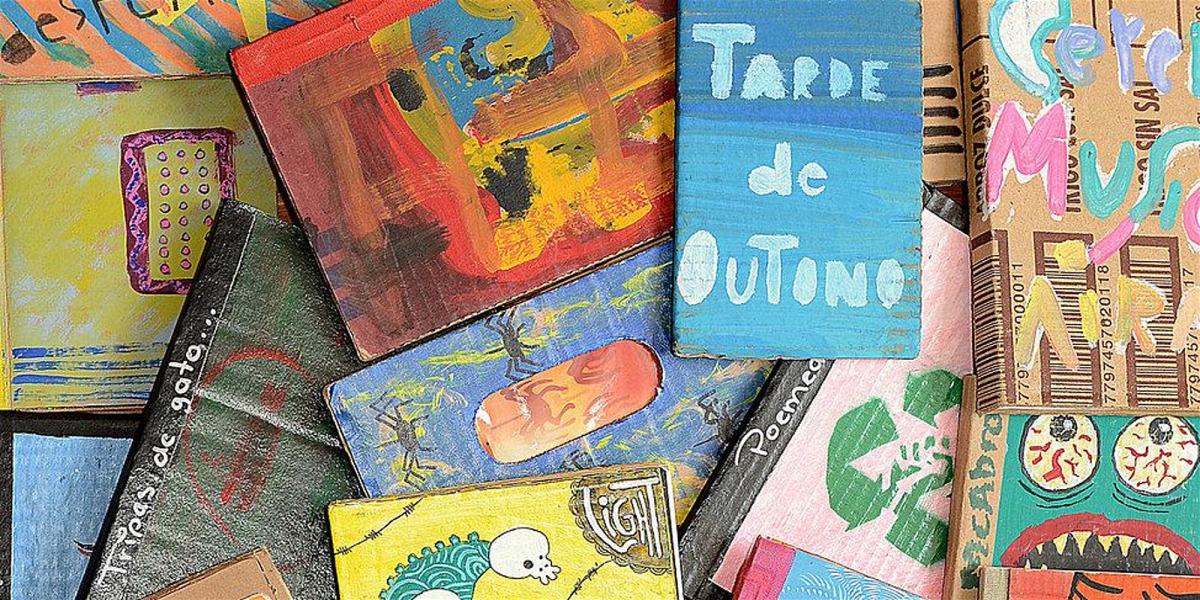 November 17th, 5 to 8PM (EST)
4130 Wesley Posvar Hall
The cartonera publishing trend began in Buenos Aires in 2003, organized by writers and artists producing low-cost, hand-made books, using recycled cardboard (thus the name cartonera). Interestingly, literacy rates improve with access to cartonera books. The books are produced in a collective-circular way, in which authors become – designers become – publishers become – authors.
The Cartonera phenomenon has expanded across the Americas, Europe and Africa. CLAS will facilitate cartonera publishing through this workshop focused on Pittsburgh schools and the larger community. We aim to promote ways in which language, social studies, and science teachers can work together using their creativity to recycle basic materials while promoting literacy.
We aim to facilitate ways in which that language, social studies, and science teachers can work together using their creativity to promote literacy and recycle among their students.
Identify and describe what Cartonera means to their school community—Build a community of authors/designers/publishers within each school.
Be able to explain how recycling and literacy go together in projects that are undertaken in socio- economic context—Experiment with creative approaches to vocabulary, drawings, and illustrations.
Improved understanding of Latin America and how this hands-on project came about.
Be able to create Partnerships and collaboration with teachers on different subject areas at their school—Write for authentic audiences (grandparents, family members, friends, teachers), by allowing the students and other educators become author/designer/publisher.
Past Global Issues Through Literature (GILS) Spring 2021
Moving: Exploring Global Migration Narratives
February 18, 2021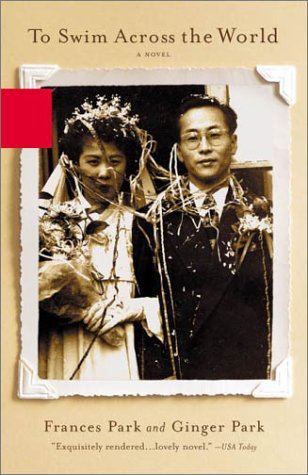 To Swim Across the World by Frances and Ginger Park
Thursday, February 18, 2021, 5-8 PM (EST)
Co-Sponsored by the Asian Studies Center
Discussion led by Professor Seung-hwan Shin, Visiting Lecturer of Korean Studies, University of Pittsburgh and Catherine Fratto, Engagement Coordinator, Asian Studies Center
April 22, 2021
Border: A Journey To The Edge of Europe by Kapka Kassabova
Thursday, April 22, 2021, 5-8 PM (EST)
Discussion led by DAAD Associate Professor, Jan Musekamp, Department of History, University of Pittsburgh
Co-Sponsored by Center for Russian, East European and Eurasian Studies
---
May 20, 2021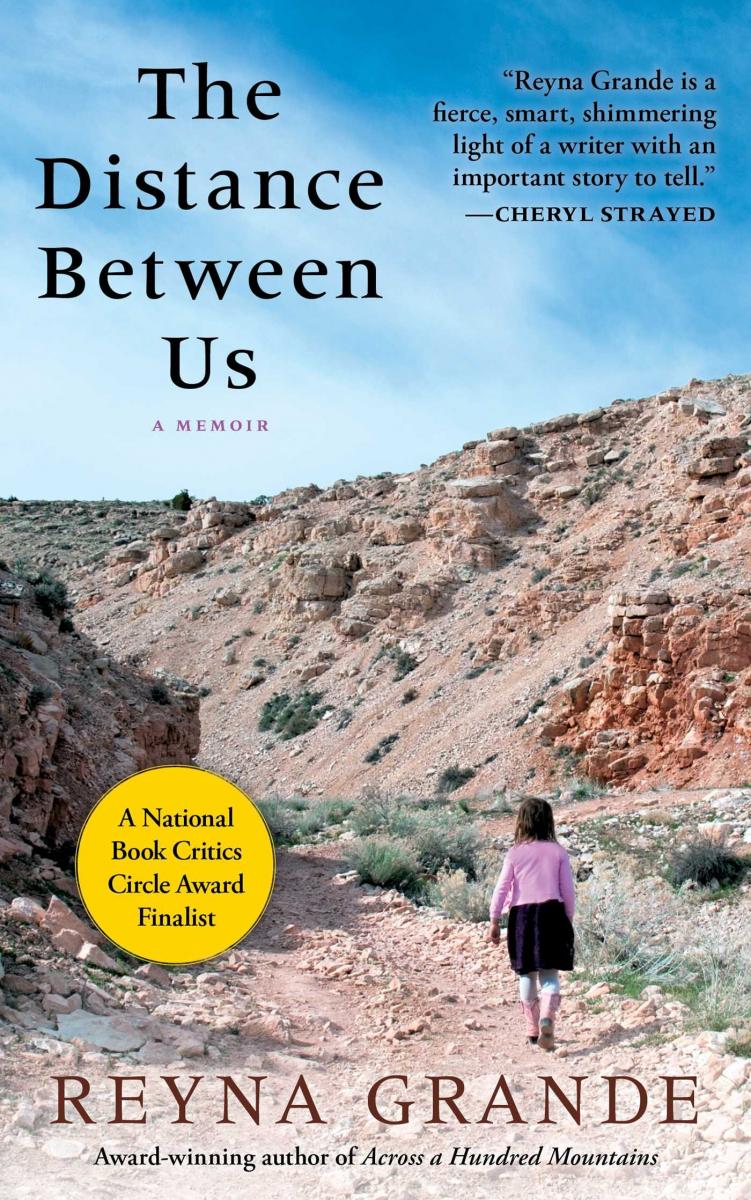 The Distance Between Us by Reyna Grande
Thursday, May 20, 2021, 5-8 PM (EST)
Discussion led by David Tenorio, Assistant Professor, Department of Hispanic Languages and Literatures, University of Pittsburgh
Co-sponsored by CLAS
---
Interdisciplinary Global Educators Working Group
Summer 2021
Have you wished for the opportunity to work with colleagues at your school to globalize a unit, lesson, or module? Are you looking for an opportunity to have your students examine political, economic, social, cultural, ecological questions from multiple lenses? Then this is a great chance to draw on the expertise of your colleagues, collaborate (and model collaborative learning for your students!), and produce a truly unique and inspired lesson plan. At the University Center for International Studies, we are excited to offer you the space and resources in this paid opportunity to do the such work!
Our Workshop Dates are: June 21, 23, 25, 2021, 10:00am – 2:00pm
Global Issues Through Literature (GILS) Fall 2020 - Past
October 15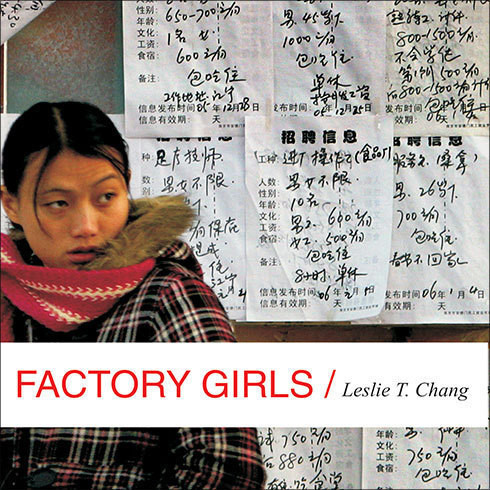 Factory Girls
by
Leslie T. Chang
Thursday, October 15, 2020, 5-8PM (EST)
Co-Sponsored by the
NCTA
Discussion led by
Matthew Sudnik
, Chair of the History Department, Madeira School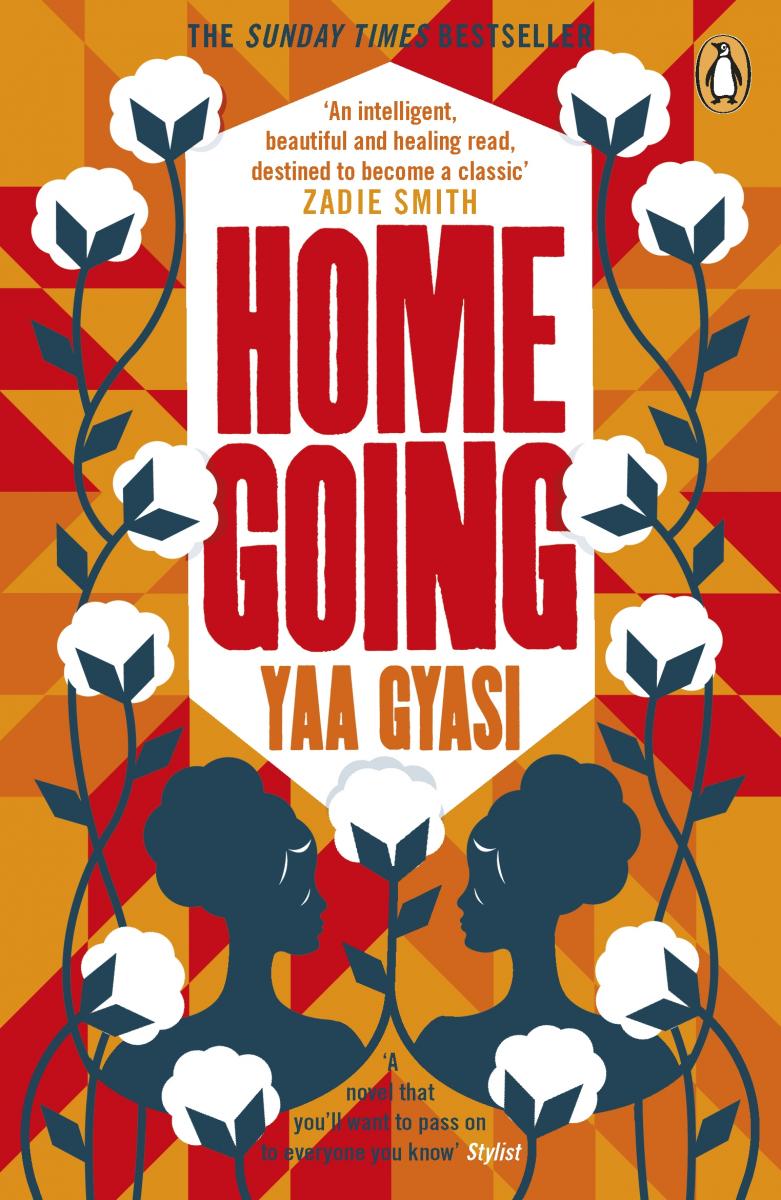 Homegoing by Yaa Gyasi
Thursday, November 19, 2020, 5-8 PM (EST)
Co-Sponsored by the African Studies Program
Discussion led by Christel N. Temple Ph.D., Professor, Africana Studies
---
December 17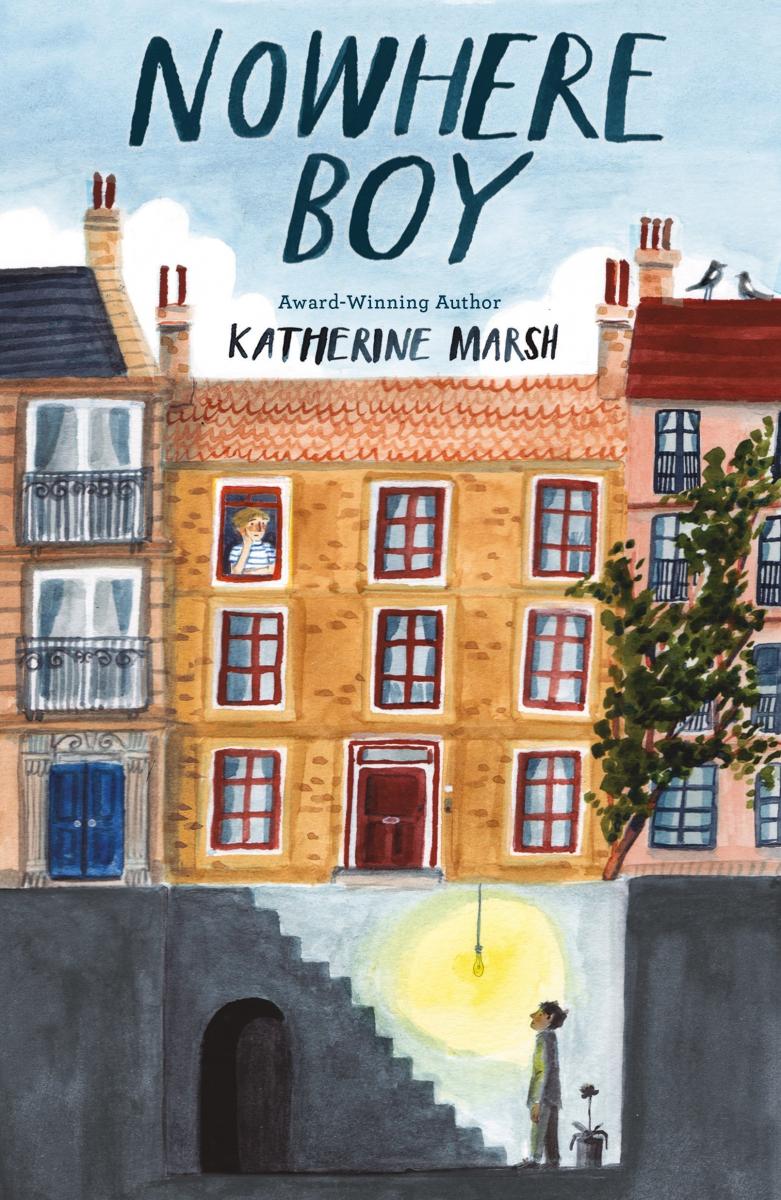 Nowhere Boy by Katherine Marsh
Thursday, December 17, 202, 5-8 PM (EST)
Co-Sponsored by the European Studies Center
Discussion led by Mame-Fatou Niang, Associate Professor, Modern Languages, Carnegie Mellon University
---
Workshop- Teaching Indigenous History as World History
June 12, at 9 - 2:30 PM
Virtual - Applications due by April 15, 2021!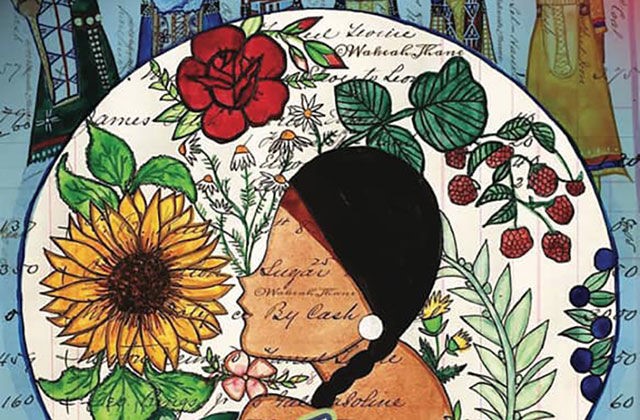 A professional development workshop for educators offered by the Alliance for Learning in World History (ALWH). This virtual event will be held on June 12 from 9:00am- 2:30 pm. All accepted participants will receive a $200 stipend. To apply, please submit a resume, sample assignment or syllabus, and application statement below. Featured speakers include: Dr. Bonita Lawrence (York University) the, Dr. Kyle T. Mays (UCLA) and Dr. Alaina E. Roberts (University of Pittsburgh.) The workshop is co-sponsored in collaboration with African Studies Program, Asian Studies Center and the World History Center. *Please use the link above to register via the World History Page Application*
---
IISE's International Brown Bag
Global Gender Policies
March 17, at 2 PM
Virtual - Registration
The International Education Brown Bags (IEBB) is a series of lectures in which graduate students in education share with the audience their experiences working in international settings and/or doing CIDE research. It will be dedicated for those who are interested in advocating for gender equality and in producing scholarship on gendered issues in US and International contexts. It is part of IISE's Global Gender Policies Working Group. Interested people can join it to share their research interests and on-going research studies on gender, their teaching and serving for gender equality, and learning perspectives on gendered issues from their counterparts of the field. *View Flyer*
---
Past Spring Mini-Course Spring 2021
Teaching the Global Water Crisis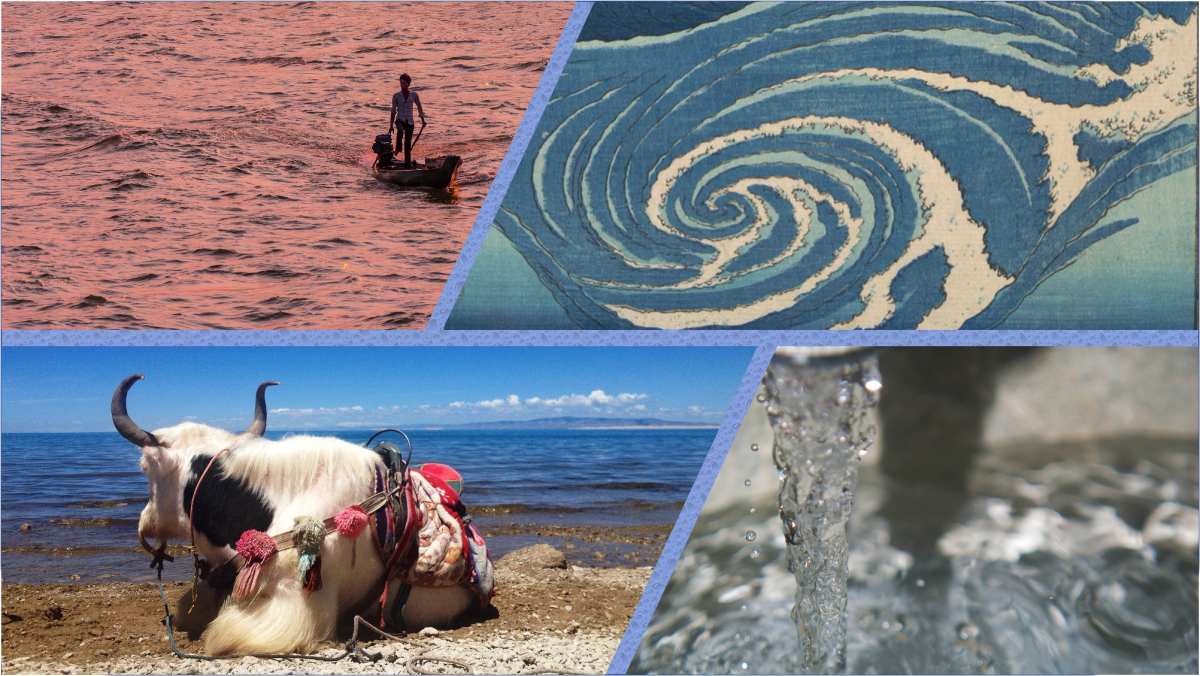 Monday, February 8, 2021 - Friday, February 12, 2021 from 5:30 PM - 8:30 PM
Significant portions of the world's population lack access to sufficient quantities of water or to water of adequate quality - standards enshrined in the UN's Sustainable Development Goals (SDGs). This unfolding global water crisis is making life precarious for billions of people and will increasingly foment environmental conflict, spur transnational migration, strain ecological systems, and exacerbate existing inequalities around the planet.
This free, cross-disciplinary mini-course for K-12 educators will explore the global water crisis through attention to its geo-political, cultural, economic, and technological aspects, with particular attention to scholars and practitioners working within the environmental, political, and technological framework to address these challenges using a people-centered approach. Special attention will be given to the case of East Asia. Learn more here!

---
Past Fall Mini-Course 2021
Public Art + Dissent: Art, Protest, and Public Spaces.
Mini-Course for K-12 Educators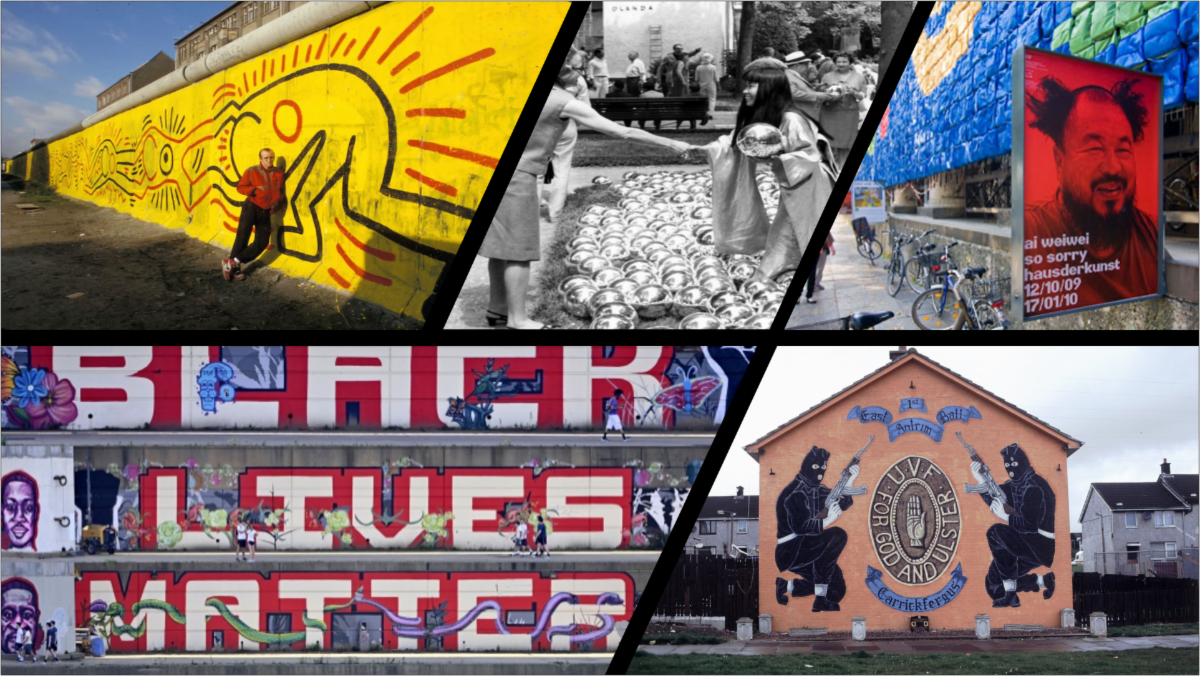 November 9, 11, 13, 2020
At an unprecedented moment in geopolitics, the work of public artists amplifies activism, resistance, and solidarity. Some of the world's most interesting art is on the streets and easily accessible to all. In this free NCTA mini-course for K-12 educators we will discuss how protest art uses public space to engage in a dialogue between the artist and the public. Artists from around the world question "what is" and "why" that transcends national boundaries and politics. We will examine works of Ai Weiwei, Yayoi Kusama, Keith Haring, Loyalist murals from Northern Ireland, and the Black Lives movement. A teacher-led session at the end will be included.
Pennsylvania K-12 educators who want Act 48 must attend all three sessions; Certificates of Completion will be given to teachers in other states who complete all three sessions.
Monday, November 9
Caitlin Bruce: Global Overview of the Topic
Eric Shiner: Ai Weiwei
Wednesday, November 11
Eric Shiner: Yayoi Kusama
Erin Hinson: Loyalist murals in Northern Ireland
Friday, November 13
Black Lives Matter
Teacher led session: Michael-Ann Cerniglia

This program is sponsored by the NCTA & Global Studies Center and co-sponsored by the European Studies Center & the Center for Latin American Studies at the University of Pittsburgh.
---
Past Global Educators Working Groups Summer/Fall of 2020
K-12 Professional Development
Interdisciplinary Global Educators Working Group's Virtual Showcase
Wednesday, September 9, 2020 at 6 PM
This summer 17 K-16 educators, across multiple disciplines, participated in a virtual program that enabled interdisciplinary teams of educators from regional schools to collaborate on (re) designing curriculum units and courses to "globalize" student learning.
Join us for this virtual event to learn more about this year's projects and what our teams have developed over the course of the summer!

---
K-12 Professional Development
Teaching About Climate Change: Vulnerabilities, Responsibilities, and Action Teacher Workshop with Choices Program
Wednesday, October 21, 2020 - 5 PM to 7 PM
Join our partners at the Global Studies Center at the University of Pittsburgh for the Choices Program in an exploration of its 8- to 10-day unit, Climate Change and Questions of Justice. We'll explore the readings, lessons, and videos that are part of the unit, and discuss ways to implement each in diverse classroom settings, including tips for using the unit in remote settings and/or project-based classrooms. The countries covered include China, Bangladesh, Nigeria, Freiburg (Germany), Colombia, Haiti and parts of the USA.
For further Information please contact majab@pitt.edu
All participants will receive a two-year Digital Editions license to the curriculum and Act 48 credit hours. This is a two-hour, participatory, online workshop, with an additional hour of prep work required.
The program is co-sponsored with the NCTA.
---
Interdisciplinary Global Educators Working Group
Have you wished for the opportunity to work with colleagues at your school to globalize a unit, lesson, or module?
Collaborate across disciplines with colleagues from your school to (re)design global curriculum! This program will provide educators with the time, (virtual) space, and material support to work with like-minded colleagues and (re)design an interdisciplinary, global unit or lessons. We are accepting applications from teams of 2-4 educators (teachers, librarians, curriculum development specialists, and/or administrative personnel are welcome to apply). A stipend will be provided to each participant as well as a mini-grant offered to each team for curricular materials. Pennsylvania teachers will receive Act 48 professional development credits.
Dates and time for virtual meetings and collaboration:
Monday 29 June, Wednesday 1 July, and Friday 3 July
9:00 am to 12:00 pm (Eastern Time)
Questions: Contact Maja Konitzer

---
Past Global Issues Through Literature Workshops: Global Health and Gender Equality Spring 2020
This reading group for K-12 educators explores literary texts from a global perspective. Content specialists present the work and its context, and the educators brainstorm innovative pedagogical practices for incorporating the text and its themes into the curriculum. All sessions will be virtual and the dates and theme for the session will be announced soon. Books and Act 48 credit are provided."
April 23rd, 2020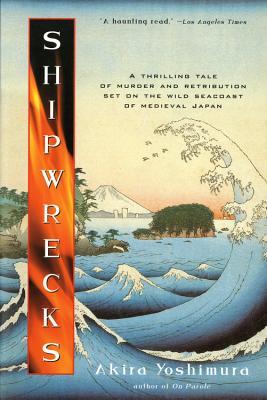 Cosponsored by the NCTA and the ASC
Dr. Brenda G. Jordan & Stephen Wludarski, NCTA and Asian Studies Center
---
February 27, 2020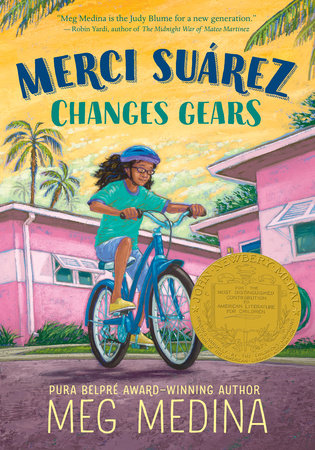 Discussion led by Carmen A. Martinez, Ed.D. Adjunct Faculty of Modern Languages at Duquesne University
Co-sponsored by Latin American Studies

---
January 23, 2020
Cosponsored by the NCTA and the ASC
Discussion led by East Asian Languages and Literature's Dr. Elizabeth Oyler

---
November 21, 2019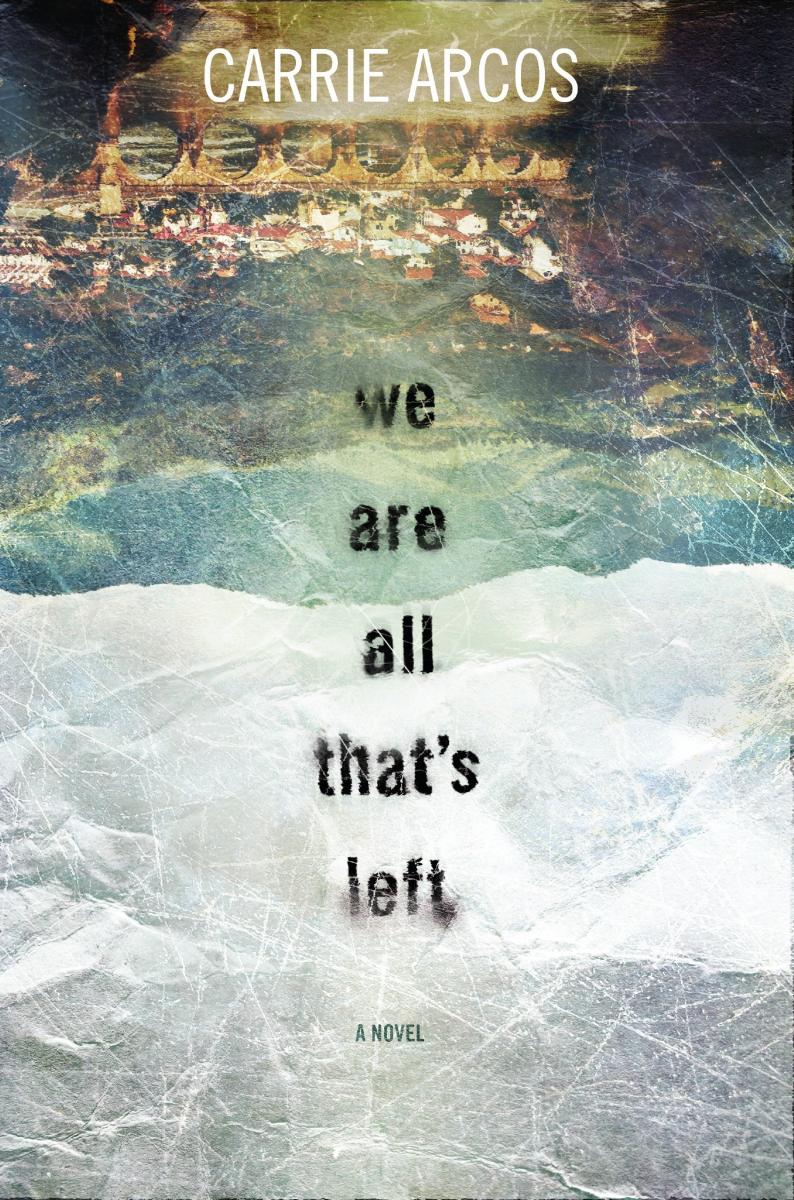 Cosponsored by the ESC and the REEES
Discussion led by GSPIA Ph.D. Candidate Dijana Mujkanovic
---
October 3, 2019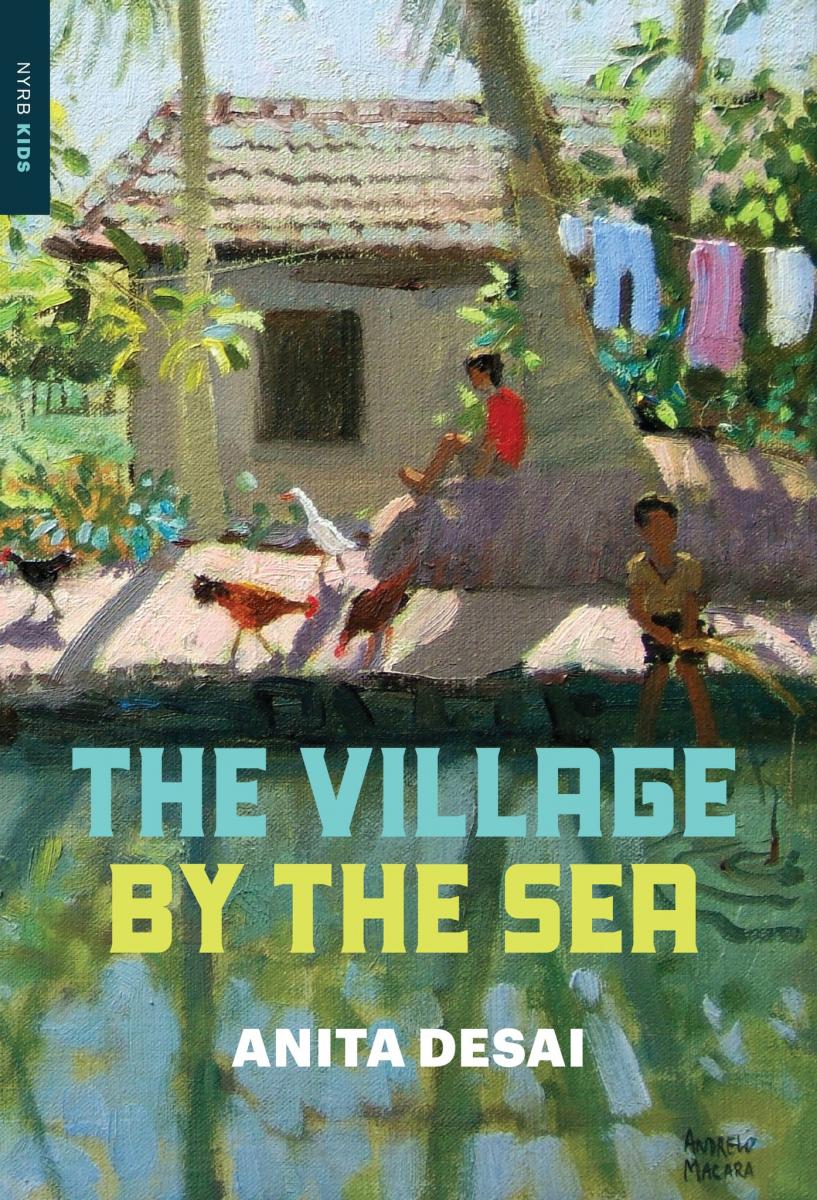 Discussion held by Dr. Kat Lieder
---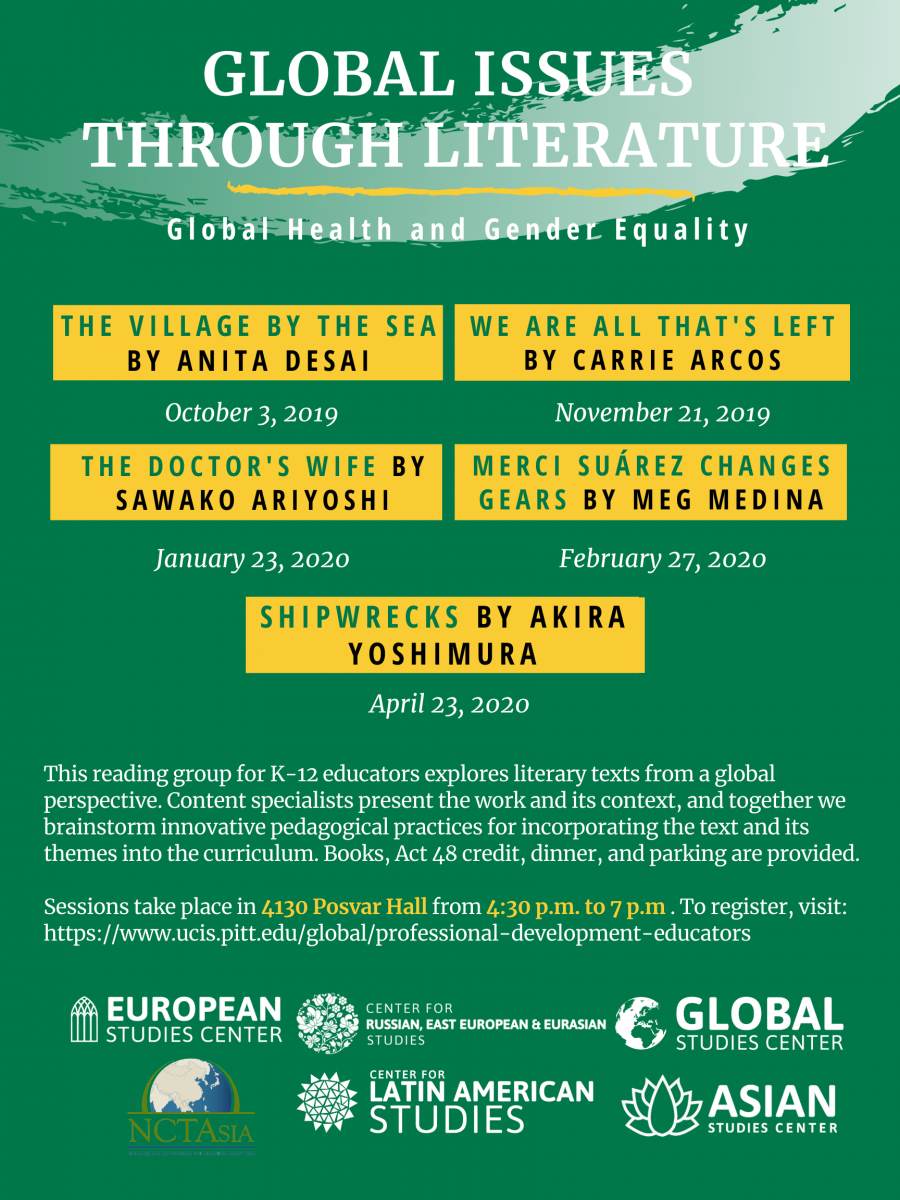 Please Click on Flyer to View
---
Past Event
Chasing Leviathan
Join us for this FREE professional development mini course on the world of Whaling from New England to Europe to Japan. Speakers will address topics such as the lives of sailors, what parts of a whale and what kinds of whales were harvested, the global commodity chain of whaling, and a challenge to the contemporary Japanese narrative about the importance of whaling to Japan.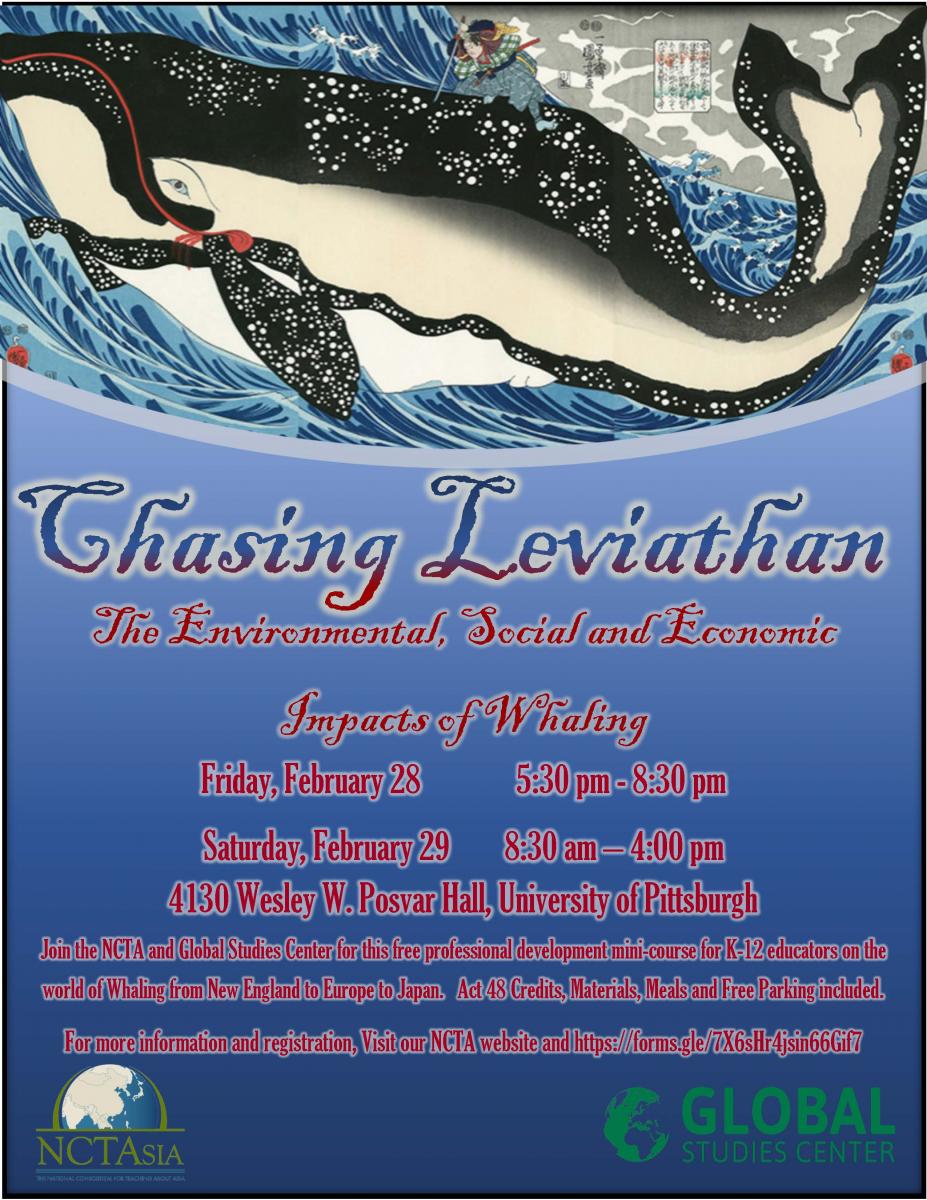 ---
In this workshop for K-14 Educators, participants will gain access to resources on teaching about cultural interactions as a topic of study. Using examples from the arts, technology and trade, we will explore primary sources that illustrate how to teach about these interactions through documents, objects, and artworks that represent modes of interaction. Dinner, parking, and Act 48 credit are provided. Click on date below to register
Presented by Susan Douglass, Ph.D. Center For Contemporary Arab Studies, Georgetown University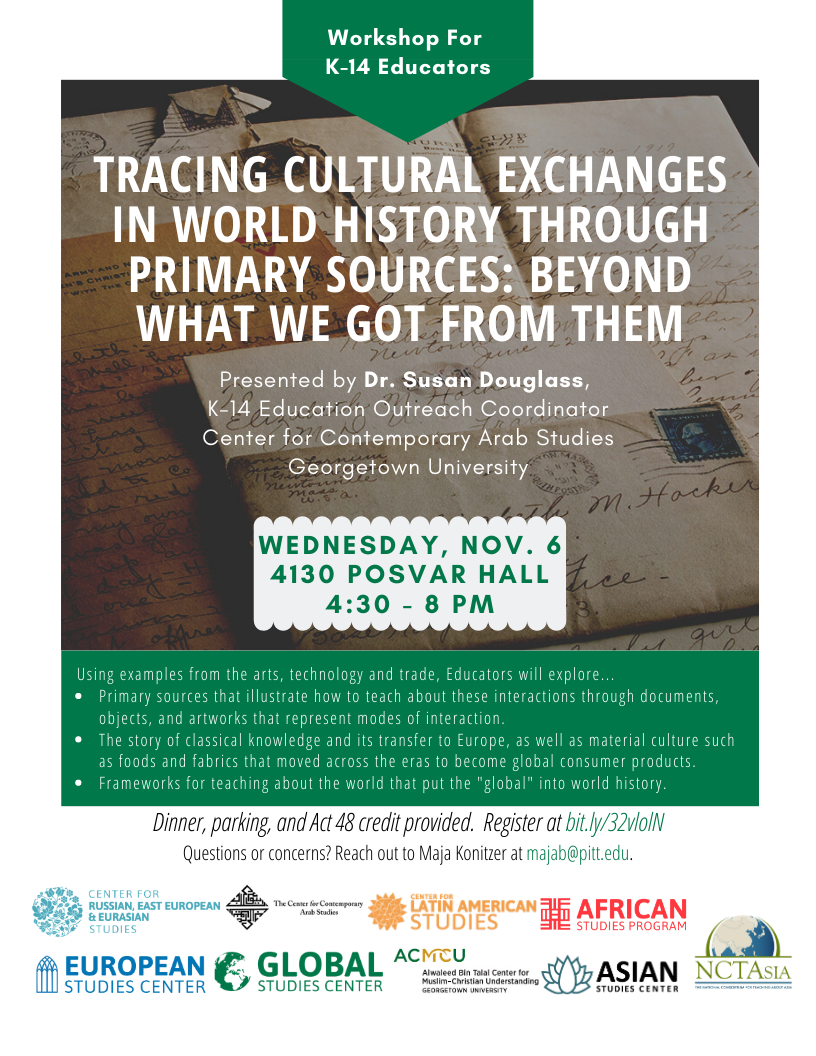 Learn More about our upcoming events or contact Maja Konitzer with any questions.