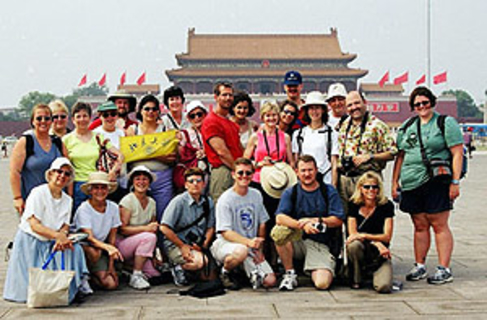 June 21-July 12, 2004
This program included the following components in addition to the time spent in China: orientation, follow-up, incorporate study tour experiences, and materials into the classroom. NCTA alumni of the Pittsburgh region's NCTA sites (Maryland, Western Pennsylvania, and West Virginia) who completed all program requirements on time were eligible to apply. The program was supported by a grant from The Freeman Foundation.
A selection committee chose twenty-one teachers for the program. Diana Marston Wood, Assistant Director of ASC and Coordinator of the Pittsburgh Regional Site of NCTA, a three-time seminar leader, led the program. David Kenley, NCTA seminar leader and professor of history at Marshall University in West Virginia, served as co-leader. Dr. Rebecca Clothey, a recent graduate of the University of Pittsburgh served as the second co-leader.
The 2004 Study-Tour Program aimed to provide depth of understanding and valuable first hand experience for NCTA alumni. Through its emphasis on traditional values as well as contemporary growth the program built on seminar themes and encouraged teachers to continue their study of China and East Asia. Program objectives also included the improvement of the participants' classroom teaching about China, the dissemination of teaching materials and techniques throughout school districts and state regions, and the incorporation of participants into a wider network of NCTA collegiality and collaboration.
The study-tour component of the program was arranged through Chinasmith Inc. of New York City and will provided visits to the following areas of China:
Beijing: capital for the last 600 years; the group focused on significant cultural sites like the Great Wall, the Forbidden City, and Temple of Heaven, while experiencing the fast pace of economic growth in China's capital);
Luoyang: an early capital of China famous for its exquisite Buddhist caves;
Xian: capital of the first unified Chinese dynasty; through its walled city and the Qin emperor's tomb soldiers it shows a high level of technical skill; through a focus on this area one can appreciate the vital importance of the Silk Road linking China and the Middle East and Europe;
She Xian/Tunxi/Huangshan area of southern Anhui: an area economically very significant during the Song Dynasty (c. 900-1100); contains interesting traditional arches and village architecture, a lovely Daoist mountain, Qiyunshan, and an opportunity to visit with teachers and students of the She Xian Zhong Xue;
Suzhou: traditional silk production center and home of many significant gardens and an intricate canal system;
Shanghai: from its origins as a fishing village in the early 19th century, it grew to be an investment and cultural center as Western countries expanded into China; now it is a modern city rivaling Hong Kong in its economic power.
The program is supported by a grant from the Freeman Foundation.