East Asia Through the Lens of Visual and Material Culture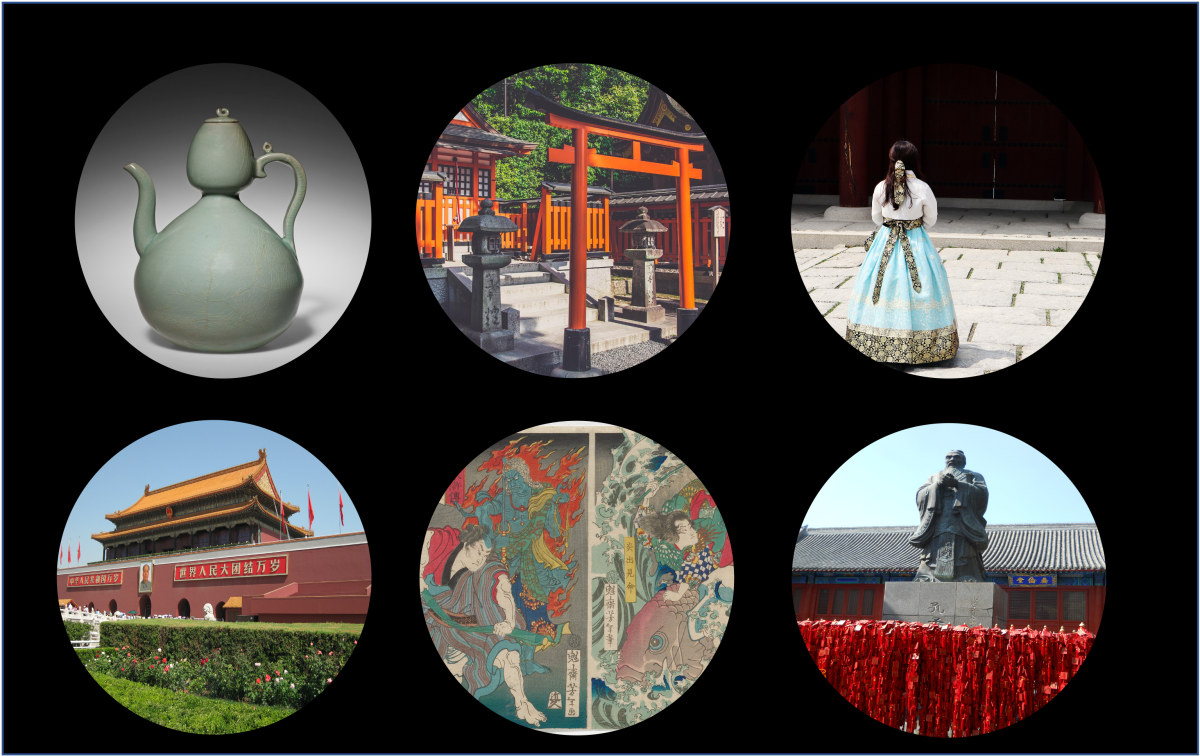 A Foundational National Consortium for Teaching About Asia (NCTA) Seminar for K-12 Educators 
Offered to K-12 educators in states in the Pitt NCTA region:
Alabama, Delaware, Illinois, Kentucky, Louisiana, Maryland, Michigan, Minnesota, Ohio, Pennsylvania, West Virginia 
Dates: July 18-July 29, 2022 (weekdays); 3 hour orientation in June (evening online) and 3 hour follow-up session August/September online. 
Times: 1:00-4:00 p.m. (Eastern Time) 
Location: Synchronous on Zoom 
Description: East Asia today represents a broad mosaic of ethnic, economic, geographic, and cultural diversity.  Even in our current period of rapid political and economic globalization, within which the region has played a major transformative role, East Asia retains its deep and rich cultural and artistic traditions and practices. Through interactive lectures and activities focusing on the visual and artistic material cultures of East Asia, K-12 educators will explore and integrate a wide range of strategies and resources supporting an enriched classroom learning environment. 
Application Deadline: June 10, 2022
Learn how to engage your students with the wider world by incorporating East Asia into your curriculum. Meet standards in your state with the content and resources that you can use to enrich your teaching and broaden your students' knowledge. Learn from scholars of East Asia and NCTA master teachers, and meet other educators like yourself. 
A Pitt NCTA seminar will broaden your approach to the standards and issues of concern to students. Designed as an introduction to the cultures of China, Japan, and Korea, the course will encourage and facilitate K-12 teaching and learning about East Asia in World History, Geography, Social Studies, Art, and World Literature. Each seminar also touches upon topics such as diversity in world history, Asian cultural identities, geography in history and culture. Develop lesson plans for your current courses. Learn how to use NCTA online resources for in person, hybrid and online classes. 
Benefits for educators who complete all seminar requirements 
$120 worth of materials for educators, including Charles Holcombe textbook and subscription to Education About Asia journal 
$100 mini-grant for additional teaching materials  
$200 stipend (after completion of all assignments and seminar meetings) 
66  Professional Development hours (for PA teachers)  
Certificate of Completion from NCTA 
NCTA alumni have access to alumni newsletters with updates on free programs, online resources, recommended books and films, and opportunities for travel to East Asia. 
Some of the Standards Addressed in this Seminar 
Discover how cultural differences impact personal perceptions 
Explain how individual artists impact cultural developments. 
Arts and Humanities - Visual Arts - Analyze a work of art from its historical and cultural perspective and analyze how historical events and culture impact forms, techniques and purposes of works in the arts. 
World History - Compare the role groups and individuals played in the social, political, cultural, and economic development throughout world history. 
Geography - The physical and human characteristics of East Asia and the interaction between people and places