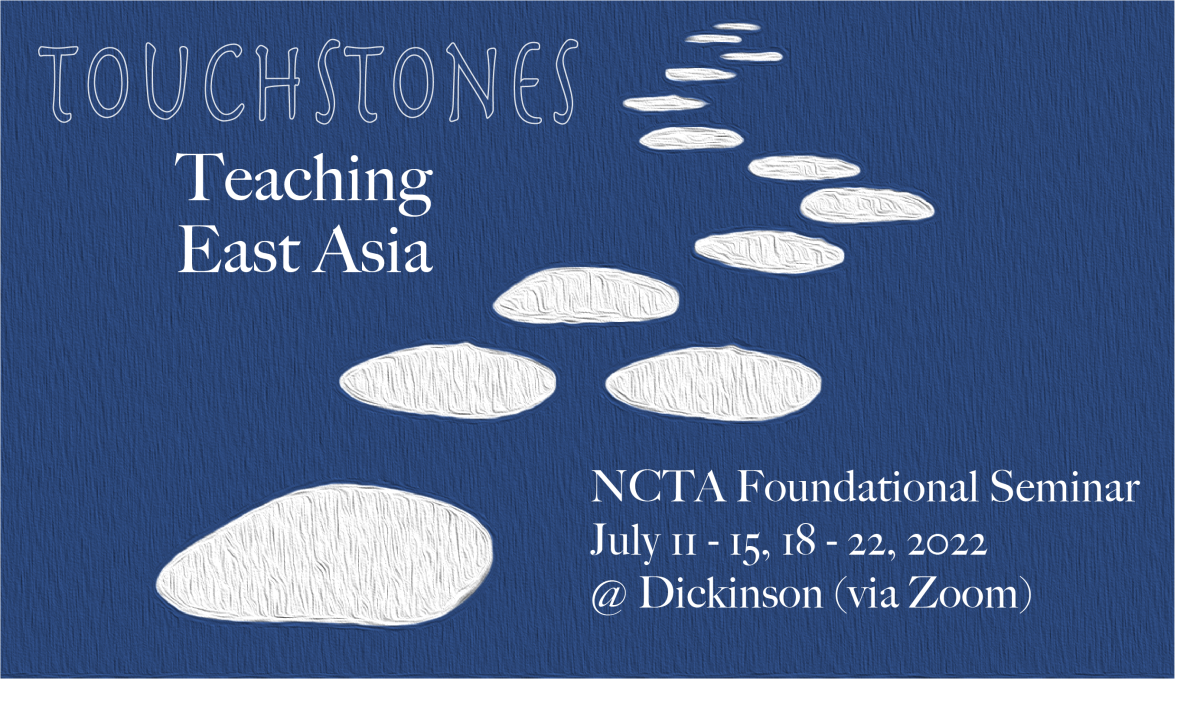 Touchstones for Teaching East Asia 
A Free, Online Foundational National Consortium for Teaching About Asia (NCTA) Seminar for K-12 Educators 
Offered to K-12 educators in states in the Pitt NCTA region:
Alabama, Delaware, Illinois, Kentucky, Louisiana, Maryland, Michigan, Minnesota, Ohio, Pennsylvania, West Virginia 
Click here to view our informational flyer
Dates: July 11-22 (weekdays; June Orientation and October follow-up TBD) 
Times: 1:00-4:00 p.m. EDT (one session will meet in the morning to accommodate a speaker joining the meeting from Japan) 
Location: Synchronous on Zoom 
Seminar Leaders: 
Dr. Shawn Bender, Associate Professor of East Asian Studies and Anthropology, Dickinson College 
Michele Beauchamp, English teacher at Manheim Township High School, Lancaster County, PA and NCTA alumna
Touchstones for Teaching East Asia is a free, online foundational seminar that introduces participants to East Asian history, culture, politics, and society. Touchstones emphasizes the ideas and characteristics that make East Asia a distinct region, with particular attention paid to China and Japan. The seminar is designed for K-12 educators who want to enhance their teaching of East Asian topics. Media specialists, librarians, art teachers, and world language teachers are also encouraged to apply. Daily sessions include in-depth lectures by scholars, hands-on activities, and group discussions on teaching strategies and resources. By the conclusion of this 36-hour seminar, teacher-participants will have a better understanding of the key ideas, individuals, and events that shaped East Asian civilization and be equipped with new approaches to teaching students about the region. Participants will receive free materials and Certificates of Completion for full participation in the course. 
Deadline to apply: Tuesday, July 5, 2022
Benefits for educators who complete all seminar requirements 
$120 worth of course materials, including textbook and a year subscription to Education About Asia 
$100 mini-grant at the completion of all requirements 
$200 stipend at the completion of all requirements 
2 Act 48 credits plus an extra 6 Act 48 hours for Pennsylvania teachers 
Certificates of Completion (36 hours) for all participants upon completion of all requirements 
If you have any questions, please contact Dr. Shawn Bender at nctasb@gmail.com