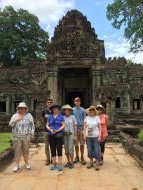 The 2017 NCTA STudy Tour to Vietnam and Cambodia took place between June 26-July 12, 2017 and included 14 educators and guest participants. To enhance the educational impact of the trip, Dr. David Kenley, Professor of Asian History at Elizabethtown College, travelled with the group. He provided historical and cultural context to enable each teacher to fully capitalize on this unique learning experience.
Our group first set off to Hanoi, where they could experience the hustle and bustle of Vietnam's capital city. After enjoying a dinner together, they took an overnight boat trip on Halong Bay where they experienced a number of breathtaking limestone formations. From there, after an overnight train journey, they disembarked in Hue, where they could visit the historic sights of the Yiem Mu Pagoda and the Imperial Citadel, among others.
Next on the itinerary was a journey through the mountains to Hoi An, where they could view houses that were centuries old and enjoy the glamour of the shopping districts and art galleries. A plane ferried them to Ho Chi Minh City, where they could view the French-inspired Opera House and Post Office while enjoying the delectable offerings of the Street Market.
Our teachers were also able to pay a visit to the Mekong Delta, where they navigated through the canals via boat. After a bus ride to Cambodia, they then were also able to see the sun rising over Angkor Wat and admire the sculptural beauty of Ta Prohm, along with several other Khmer temples.
The tour was finished off with a final trip to Bangkok, from where they were able to fly home or continue their journeys elsewhere.
Our teachers were able to encounter some spectacular sites, spend time with some incredibly kind people, and eat some very, very good food. We hope that they learned something new to impart onto their students as well.
For a blog of the tour which includes lot of photos, go to: http://www.eagle.pitt.edu/blog/2017